Abrahim tends to his organic garden with pride. It will supply guests with fresh strawberries, tomatoes, peppers and more. What makes this garden unique is that it completely covers the rooftop of Hacienda el Santuario, a quaint hotel typical of many you will find in Centro San Miguel de Allende.
I find myself climbing many wrought iron spiral staircases that lead to wondrous gardens, terraces, and of course, views of the marvelous pink Parroquia church in the city's heart. This is a colonial city in central Mexico that deserves at least a 5-night stay, though some fall spell to its charms and stay forever. That is why there are more than 17,000 expatriates in a city of 140,000.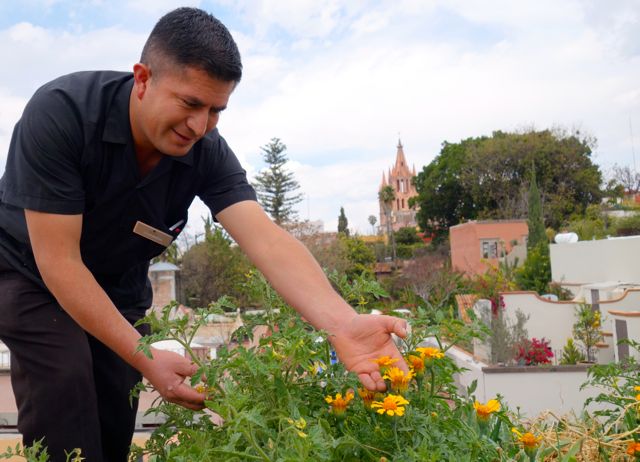 One of the more gratifying aspects of a visit to this remote city is the myriad of lodging options, from luxury boutique hotels to B&Bs to vacation villas. No chains here. Even more gratifying is a remarkable price point, made possible by the strong U.S. dollar. We can certainly achieve upscale on a budget when it comes to accommodations. I will go into detail about some of my favorite options, along with my personal recommendation.
Let's start with the length of stay, as that will play a significant role in the lodging decision. San Miguel de Allende (SMA) is about 4 hours by bus, van or car from Mexico City and a little closer to Leon. Locals from Mexico City descend upon SMA for the weekend, but if you are coming from abroad such a short stay is rather prohibitive. Some people feel that it takes at least a week or two to settle in and absorb what city has to offer. It is not unusual for Canadians and Americans from northern states to spend the entire winter here in the mild mountain climate.
Vacation villa rentals
For stays of a week or longer, I strongly recommend checking the vacation villa rental options. One company representing upscale properties is PremierSanMiguel.com. A quick check of their site revealed 50 rentals, with slide shows and videos. For example, Casa del Albaricoque is a 2-story, 2-bedroom, 2.5-bath home only a block from the main square (Jardin), including a kitchen and rooftop terrace. The price for a week is US$975. Two couples sharing this amazing home would each pay $69 per night! Some properties have been featured in Architectural Digest.
The old standby, TripAdvisor.com, revealed more than 260 rentals to choose. Airbnb.com lists more than 300. I didn't stay in a rental, but I did check out the fascinating Casa Dr. Seuss (pictured below). This playful 2-bedroom, 2-bath home might be a thrill for Dr. Seuss fans at only $675 a week. One downside: it is about a 25-minute walk to the center of town and not in a very upscale neighborhood either. The owner, Steven, suggested I consider the equally wild Artista Casa inspired by Gaudi. It is even farther away, so it comes with its own ATV to drive around SMA's cobblestone streets!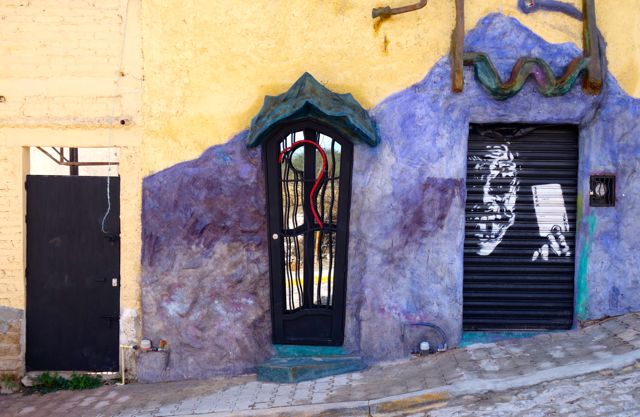 Needless to say, you could spend many entertaining hours just exploring the rental options in SMA. This may be the best long-term rental city I have visited.
But what about shorter stays? I have placed these accommodations into three categories: small luxury hotels, B&Bs, and premium boutique hotels.
Small luxury hotels
I visited a few amazing properties in this category. The Rosewood and Matilda vie for the top spot on everybody's list of luxury hotels and with good reason.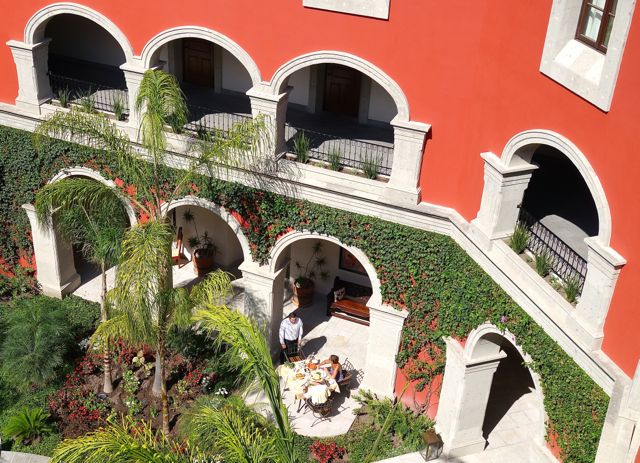 The Rosewood has that classic elegance of a fine resort property anywhere in the world, matched with arguably the best view of the city from the 4th floor rooftop bar, La Luna. The panorama feature of your camera will get a workout here. Best of all, with the sun behind you, the view is gorgeous in the morning. Then you come back later for a drink and spectacular sunsets beyond the city. Note: you don't have to stay here to enjoy those views!
You will be pampered at the Rosewood. I talk to one couple (pictured above) while they munch on a breakfast of fresh bagels and lox. The wife is an artist; so the staff promptly set up an easel, paints and brushes for her to use each day. They were staying for a month! The downside of all that pampering is a price tag of well more than US$300 a day – reasonable elsewhere, but pricy in this city.
SMA is full of charming hotels and restaurants, where traditional flower-draped Spanish courtyards reveal themselves once you get past the main entrance. You begin to expect it as the norm. That's why Hotel Matilda comes as something of a shock to the senses. Ultra contemporary, pure white, very artistic chic best describes this property.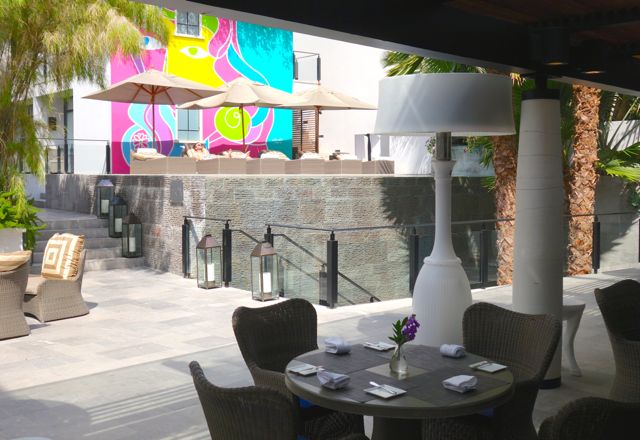 Named one of the best hotels in Mexico by Conde Nast Traveler readers, Matilda (pictured above) checks a lot of luxury boxes. The restaurant, Moxi, is managed by a New York chef and features rotating artwork by Claudio Limon. You get the picture, literally. Sales Manager, Enrique, proudly points out their association with Siempre Hermosa, a non-profit organization that paints over graffiti in town. It's the kind of place that quietly attracts celebrities, not concerned with prices ranging from $300 to $1,000 a night.
B&Bs
The street looks like any other extending out from Jardin, the central square of San Miguel de Allende. The doorway is typically non-descript. Step inside, and you are in a magical world full of masks and other Mexican artifacts. Oh, and this could be your lodging if you choose Casa de la Cuesta, a 7-room B&B owned by two Americans, Bill and Heidi Levasseur.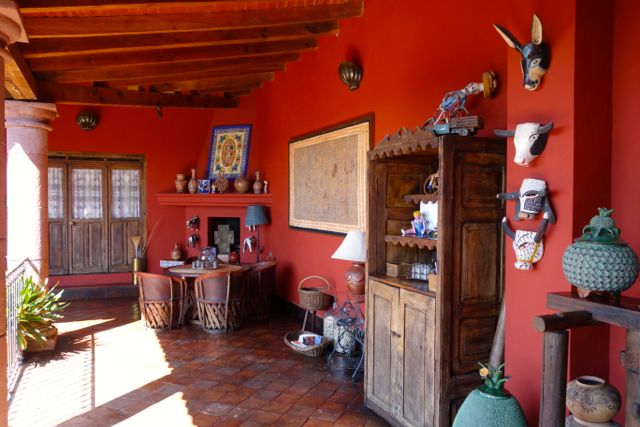 Bill has been collecting Mexican folk masks for 26 years and operates the Mask Museum on the property, a place so special I will devote an entire post to my visit there. But the entire property is warm and inviting, as are its hosts. It's not a surprise that TripAdvisor rates it #1 of more than 120 B&Bs. Beautiful rooms are under $200 a night. The only drawback was that it requires an uphill walk from the Centro, which could be taxing if you want to keep making trips back to your room.
I check out several other B&Bs, but frankly, nothing quite delivers the value of Casa de la Cuesta, although Casa Schuck is worth a look.
Premium boutique hotels
While not luxury, for the best combination of upscale on a budget, my top recommendation comes from this category. I stay at Hacienda el Santuario. There are 24 custom-designed suites, some framing the charming courtyard, some more secluded. Although breakfast (pictured above) is not included, each morning we all gather like a big family in the courtyard. I start with a pot of hot coffee, fresh-squeezed orange juice, a fruit plate, organic bread and homemade preserves, followed by a choice of omelets, Mexican fare, pancakes, etc. All of that adds about 65 pesos to the bill or less than $4.00. And the charge for my suite – less than US$90 per night!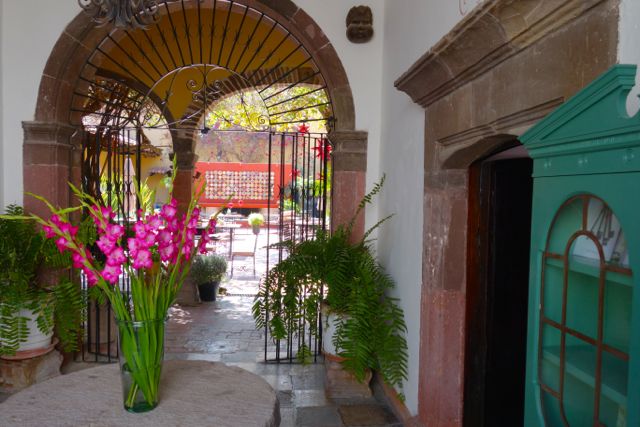 The hotel sits in a quiet neighborhood, just a flat, 4-minute walk to the Parroquia and center square. And the staff, who speak some English, are very friendly and help me with my pequeno Spanish. Like many old, restored buildings in this town, the walls of my room are a half-meter thick stone. While great for sound-proofing, I discover the only drawback – it makes for hit-and-miss Wi-Fi. No worries, as I step out the door onto the lovely patio and the signal reappears. We can only be off the grid for so long.
What's upscale?
For stays of a week or longer, choose a vacation villa rental from Premier San Miguel.
For luxury hotels, choose the Rosewood (best view) or Hotel Matilda (closer to Centro).
What's budget?
For B&Bs, choose Casa de la Cuesta.
For boutique hotels, choose Hacienda el Santuario.