Time to leave the beautiful city view from my suite, head down to the sumptuous breakfast buffet, then step onto the skytrain to be whisked across Bangkok, all without stepping outdoors. There are lots of reasons to choose both luxury and convenience when you stay in Bangkok. Here you can enjoy upscale on a budget.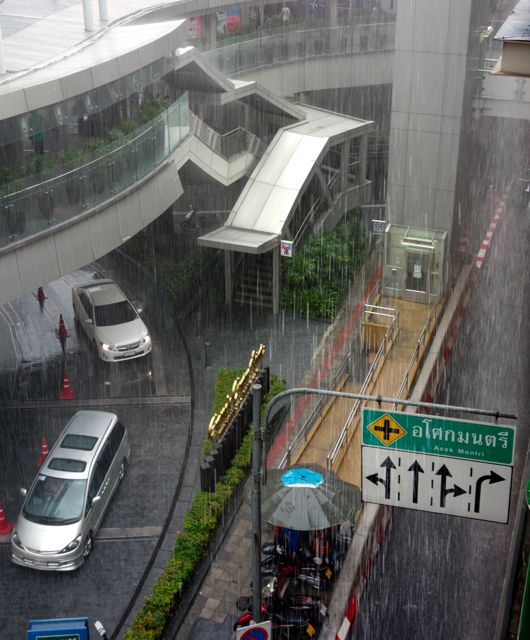 Let's face it. Bangkok is usually hot and humid. And flash rainstorms are a common occurrence. Wouldn't it be nice to stay at a hotel in the heart of the city, where you could quickly walk under cover to and from both BTS metro lines (Sukhumvit and Silom) to take you just about anywhere?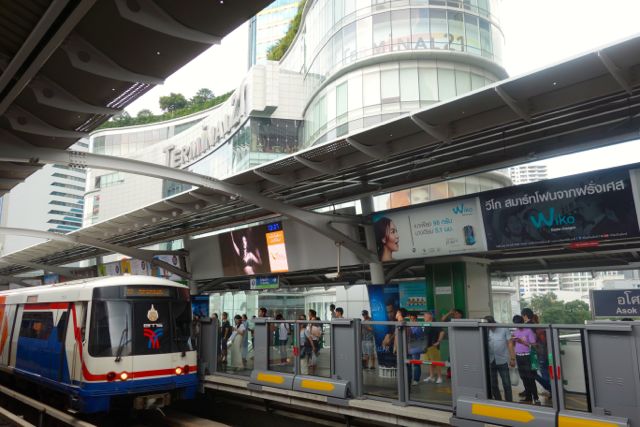 Is shopping on the day's agenda? Wouldn't it be nice to have a modern, 9-story shopping mall adjacent to your hotel property? At Terminal 21 you can escape that heat by perusing 600 shops, an 8-screen Cineplex, gourmet market, and more than 50 restaurants. The famous Siam Paragon shopping complex is four stops away on the BTS, and the high-end Em-Quartier is just one stop away.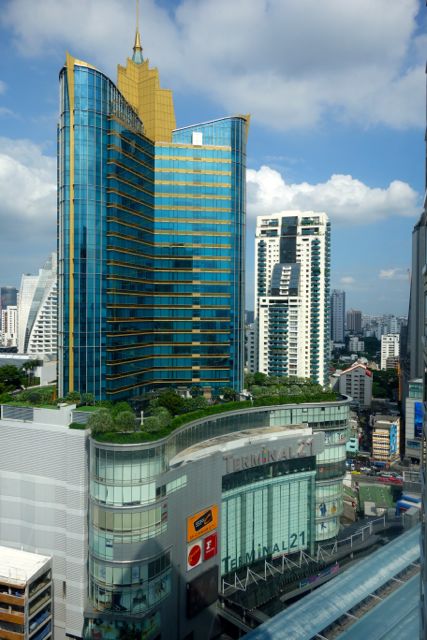 Tired from all that shopping? The hotel offers hot stone massages, aromatherapy, hydrotherapy, and more. But since we are upscale on a budget, I suggest you head to the top floor of Terminal 21 to the professional day spa called "Let's Relax." The "Full Spirit," which is nearly 3 hours of aromatherapy massage, plus body scrub or wrap, plus foot reflexology totals about US$70.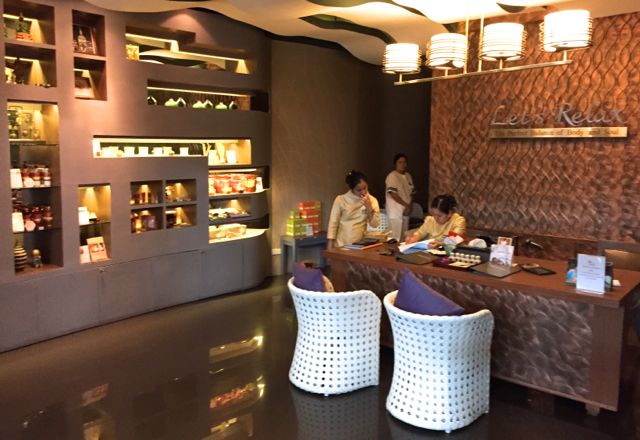 In cities like New York the average hotel room feels like a closet. Wouldn't it be nice to always get a room that is 45-square meters (484 square feet) or larger? Stay in a recently renovated room with luxury touches like a walk-in closet, separate deep-soaking tub and shower, 300-thread-count sheets, and a spacious working desk among its many amenities? Oh, and nice views like the picture below?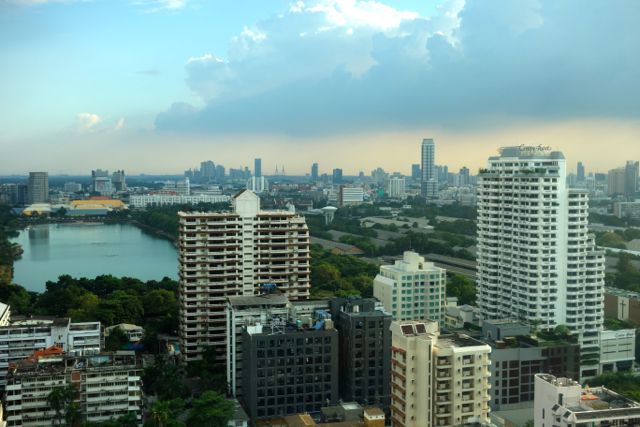 We've all been to hotels where breakfast consists of a cold muffin and do-it-yourself coffee from an industrial-size urn. Wouldn't it be nice to wake up to a huge international hot breakfast buffet, with fresh tropical fruits, and friendly service that keeps your fresh-squeezed orange juice and hot coffee constantly coming?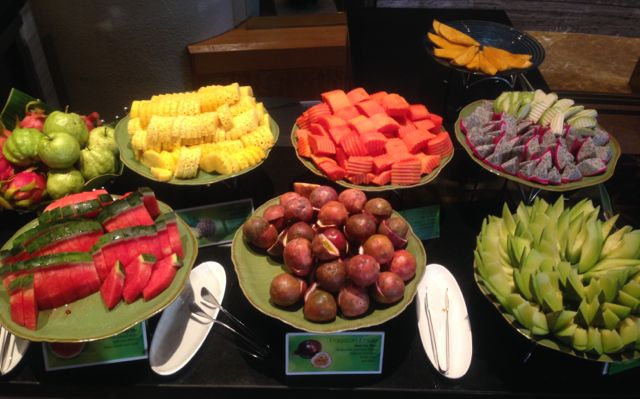 Speaking of food, wouldn't it be nice to have a choice of six dining options on the hotel property, including Thai, Italian, Asian, and International? Oh, and that doesn't include the unique "Dine in the Dark" restaurant, where you will be aided by visually impaired guides as you eat in total darkness. For each diner the hotel also makes a donation to Thailand's Foundation for the Blind.
Wouldn't it be nice to wrap up your evening with a quiet drink in The Library or to the sound of live jazz in The Living Room?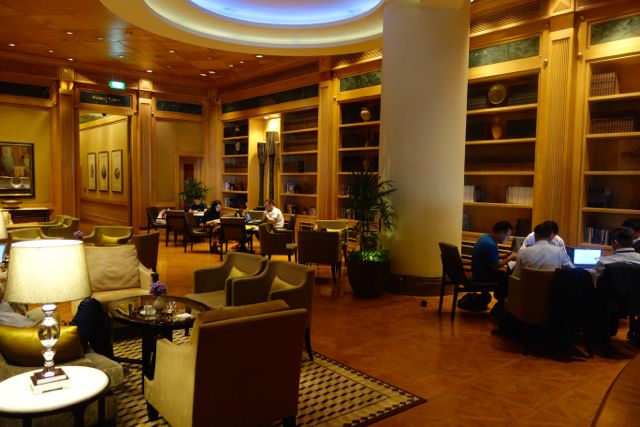 Big, world-class cities can also break the bank when it comes to luxury hotel prices, often the most expensive part of your trip. Wouldn't it be nice to experience everything I related above at a reasonable price? That's where being in Bangkok, Thailand helps. The comparatively lower cost of living, together with serious competition for the upscale traveler's wallet, keeps prices in check.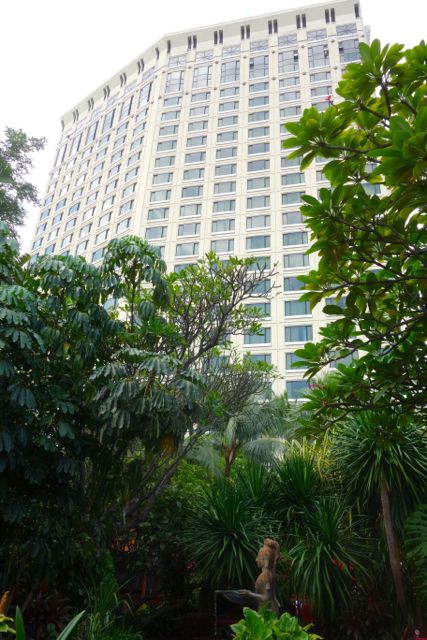 So, what is this hotel I have been talking about? It is the Sheraton Grande Sukhumvit. Don't be fooled by the Sheraton name. It is a member of The Luxury Collection, a group of more than a hundred 5-star properties that are part of the Starwood brand. They are all pretty elegant places. I have stayed at the historic Gritti Palace in Venice, the Hotel Goldener Hirsch in Salzburg, and the Palace Hotel in San Francisco, among others – all unique and outstanding. Want upscale on even more of a budget? Use your Starwood points here!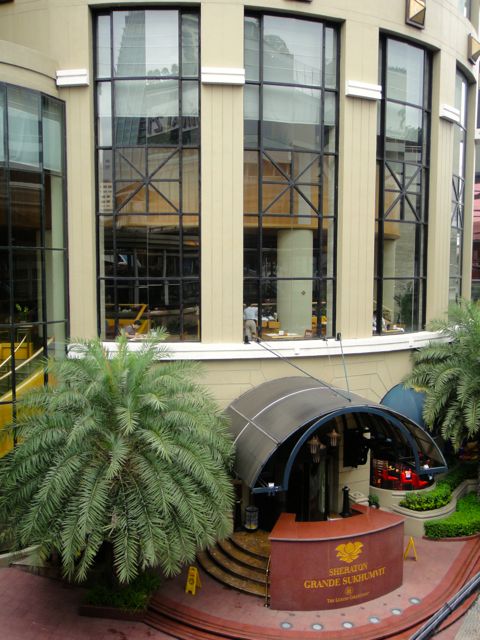 What's missing at the Sheraton Grande? Well, if you are looking for old world Thai charm, with furnishings that look like a temple or maybe Jim Thompson's House, you won't find that here. The Sheraton Grande has more than 400 rooms and suites. It can feel big and business-like. Just know that going in. With more than 2,000 hotels in Bangkok, I'm sure you can find a small luxury boutique hotel, if that is your preference. For me, I want the size, service, and amenities of the larger property in such an enormous city.
Wouldn't it be nice to go right now?
What's upscale?
Your hotel is one of the best in Bangkok, with all the amenities, plus a convenient location on Sukhumvit Road next to the Asok BTS station.
What's budget?
Bangkok has a low cost of living compared to most great international cities. So everything from an airport taxi to subway to spa to the cost of your hotel room is quite reasonable.