It turns out "Good King Wenceslas" wasn't a king or even named Wenceslas, but he was good! And subsequently made a saint. Today all roads seem to lead us to Wenceslas Square, the gathering place for the Czech people for nearly every significant event in their tumultuous recent history. It's a meaningful way to begin our day visiting the Old Town side of Prague.
The Vltava River neatly divides Prague, almost to beckon, "Hey, spend a day on each side." In another post, we spent a day on the castle side of the river. Today, our journey focuses on the right bank, home to the Old Town, Jewish Quarter and New Town.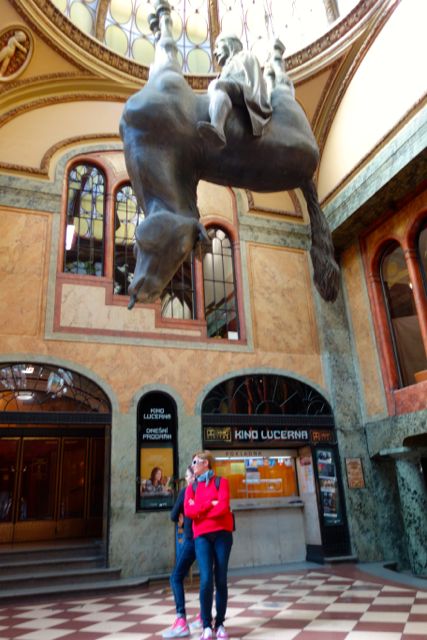 We are staying at the upscale Sheraton Prague St. Charles Place, an interesting restored building and arguably the city's best business hotel. It is in New Town, a good starting point. From here we will journey back in time. There are plenty of shops and little restaurants that line the streets. My favorite center is Lucerna Pasaz, a small retro-style indoor shopping center at Stepanska 61. Most notable, there is the satirical hanging statue of St. Wenceslas, who is riding on an upside down horse, courtesy of Czech artist David Cerny. It is freedom of speech at it's finest.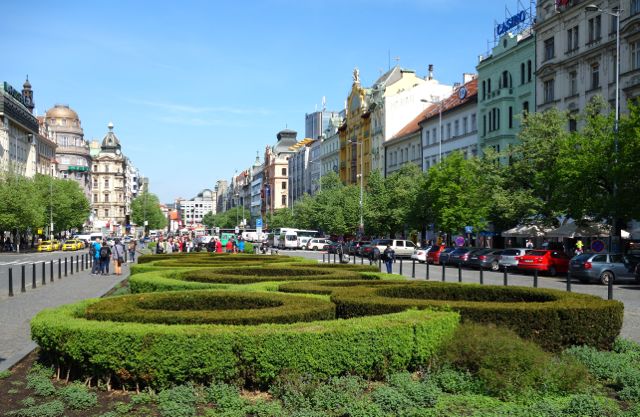 All streets seem to lead us north to Wenceslas Square. It's not a square in the traditional sense, but more of a long tree-lined boulevard leading to the original equestrian statue of St. Wenceslas in front of the National Museum. Now a fashionable shopping area, it is worthwhile to linger and appreciate the history of this place. It has been the gathering place of the Czech people for nearly every significant event over their last tumultuous couple of centuries, most recently the Velvet Revolution, celebrating the peaceful fall of Communism in 1989.
This is a good time to remind readers that nothing quite takes the place of a private guide, who has lived through that history and can bring to life events, such as Prague Spring. With the help of our wonderful guide, Marketa, owner of Caput Regni, we walk all over this amazing part of the city listening to her stories. Like all kids at the time, she belonged to the Pionyr (Pioneers), a Soviet-style youth organization, wearing uniforms of white shirts and red kerchiefs.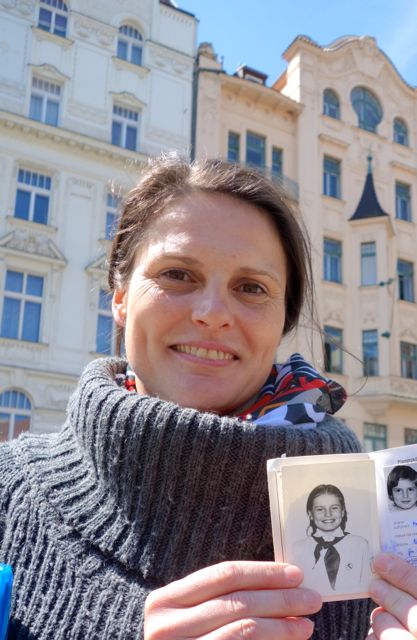 We must eventually move on, as our walk takes us to the Municipal House, Prague's ornate concert hall, and from there to Old Town Square. One of the true highlights of a visit to Prague is to travel to the top of the Old Town Hall, also home to the much-photographed Astronomical Clock. The most breath-taking photos are to be garnered from the little 360-degree balcony at the top of the tower. More good news: you can take an elevator to the top. Even more good news: it's cheap.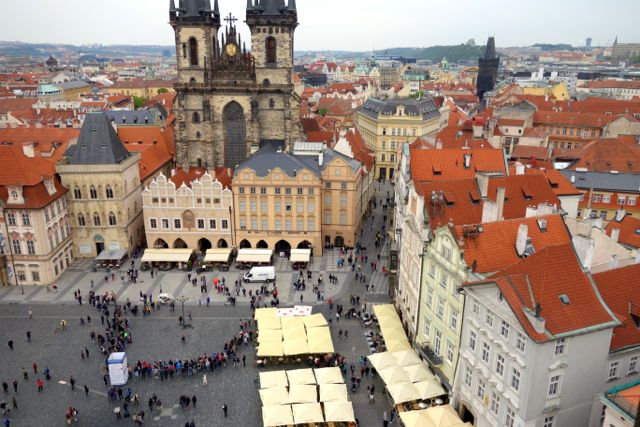 This side of the Vltava has many neighborhoods that can fascinate your special interests. I can't begin to address all of them here. A good guidebook that delineates the city that way is Frommer's "Prague Day by Day," by Mark Baker. I got my copy from Pauline Frommer, whom I think really understands how people absorb travel information these days. Let me suffice to say that, regardless of your special interest, a trip through the Jewish Quarter (aka Josefov), close to Old Town, is time well spent.
Old Town is also where the souvenir shops are to be found. The best gift for kids is clearly Krtek, the Little Mole. Created in the 1950s by Czech animator Zdenek, he became a favorite across the then Communist world. Puppets are also popular. For adults, there are lots of glass items and garnet jewelry.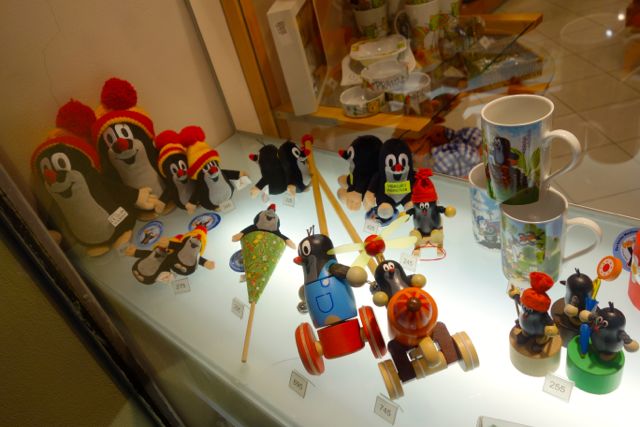 All this walking has made us hungry. And I would be remiss if I didn't note some places to eat. When people talk about cuisine, rarely does Czech food get mentioned in the same sentence as French or Italian – hey, it rarely gets mentioned at all. And with good reason. It was a tough 20th century for these guys, when a potato or loaf of bread sounded pretty good. It resulted in a cuisine famous for multiple kinds of dumplings, for instance.
But wait, they also produce some of the best beer. In fact, Czechs per capita drink more beer than anyone else on the planet. As a result, we look for pubs and fairly simple restaurants and frankly, drank a lot of great beer! Of course, we had to try the original Budweiser Budvar, from the nearby town of Cesky Budejovice.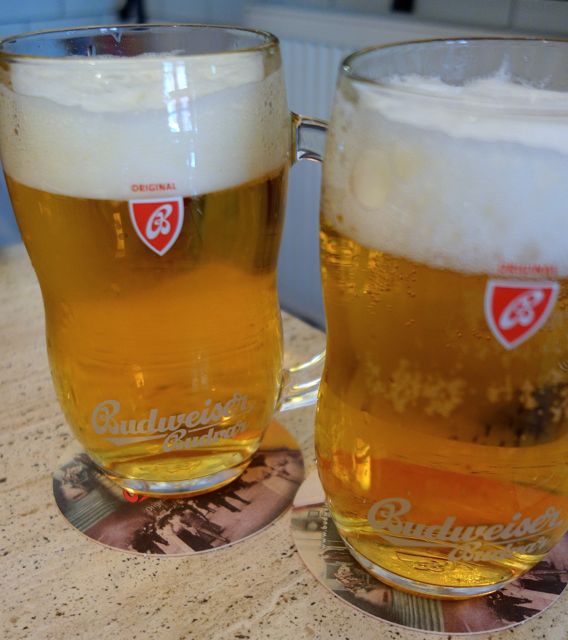 I will point out four places, all around $25 for two, including 3-4 half-liter beers. We eat English-worthy fish and onion rings at Fish & Chips, Dlouha 21, in a pretty section of Old Town. Tex-Mex food is tasty enough at Restaurace Jama (aka The Hollow), Jame 7. Café Risorante Pizzeria, Stepanska 14, doesn't disappoint either. Finally, the star was Trattoria Cicala, Zitna 43, unimpressive from street-level, but with delightful Italian food served in the cellar.
Tips and tricks.
I will admit it, I'm afraid of heights. But I have few problems with the views from the top of the Old Town Hall. If I can do it, so can you. Ask for discounts everywhere you can. I scored a ticket to the top for less than $3, thanks to a senior discount. Tram rides are cheaper by the 10-trip pack. Just keep asking if there are any discounts.
Prague is a compact, walkable city. The route I describe here, through New Town, Wenceslas Square, Old Town and Jewish Quarter can be done in a few hours or leisurely, in half a day. Still, I recommend a separate day for the Castle side of the river.
Combining a quick trip to Prague with a visit to Budapest? Read my post about how to see Budapest in two days.
Have any comments? If so, I would like to hear from you. Simply comment at the bottom of this post.
What's upscale?
Swiss Air let me bid on business-class lie-flat bed seats to get to Prague.
A Prague-raised private guide is worth the money.
Our suite at the Sheraton Charles Square, an interesting restored building.
Private car transfer from airport to city.
The view from the astronomical tower is priceless.
What's budget?
That view from the tower can be yours for less than US$3.
Excellent trams and metro are easy to use and cost only about US$1.
Food, hotels — compared to other European cities, Prague is quite reasonable.
Eats: Cicala Trattoria, Fish & Chips 21 Dlouha, Restaurace Jama.