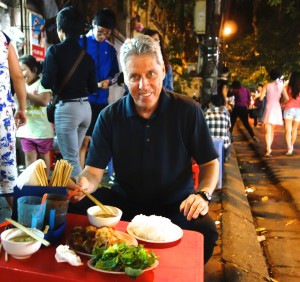 My name is Stephen Henson. No matter what career I have had over the last 40+ years, from founding kbb.com to working in China, what I have enjoyed the most is traveling and meeting people. I have been to 53 countries and more than 600 cities.
Now it's time to give back to others, by sharing my stories, photographs, tips and advice and more. By following along, hopefully you will travel a little smarter and come home with a smile.
I practice "Upscale Travel on a Budget."
Do any of these 8 things sound like you?
You're not a hostel-staying backpacker. You love really nice hotels (and Airbnb).
You can't always justify business or first class travel, but crave that comfort on long flights.
You want to sightsee on your own terms, not be herded into a bus with 50 other people.
You can afford haute cuisine, but still prefer authentic food at a reasonable price.
You'd rather not pay for a taxi if great public transit is available.
Your idea of camping involves Egyptian cotton sheets and a spa treatment.
You spend a king's ransom on gifts for people back home, then skip lunch "to save money."
You desire upscale travel, but you want to choose how you spend your money to get it. You want to be in control.
If any of the above describes you, then you might like my blog!
I have met a lot of people around the world who have worked really hard and can afford some of the better things in life, but still value getting a good deal. I will try to show you how to make that happen – in words and lots of pictures!
Shall we make some memories together?
Now, would you like to know more about me? Some of my life's twists and turns that have shaped the writing on this site? Why not? Simply go to Stephen's bio for my life in words and pictures!