The young woman held a big green Thai guava in her hand, and I heard the crunch as she bit into the hard, white-fleshed fruit. Her afternoon snack was foreign to me. Aren't guavas supposed to be soft and pink?
The woman had an inviting smile, like so many people in Thailand. Except she, like me, was a foreigner in this city. The thanaka paste on her cheeks and forehead gave her away as a Myanmar native. But here she was, working a stall in Bangkok's Klong Toey wet market. We were both a long way from home, but on different missions.
I was an explorer, anxious to discover the way the locals went about their daily lives, and the market was a microcosm of this vast metropolis. It sat crammed against busy Rama IV Road, with the unending sound of cars and trucks and motorbikes and tuk tuks whirling by.
As I entered the market through the narrow, curving aisles, the sounds gave way to the smells of fresh fruits and vegetables mixed with the many spices needed to make Tom Yum and other tasty Thai specialties. And there were so many strange foods, including that guava in the young woman's hand.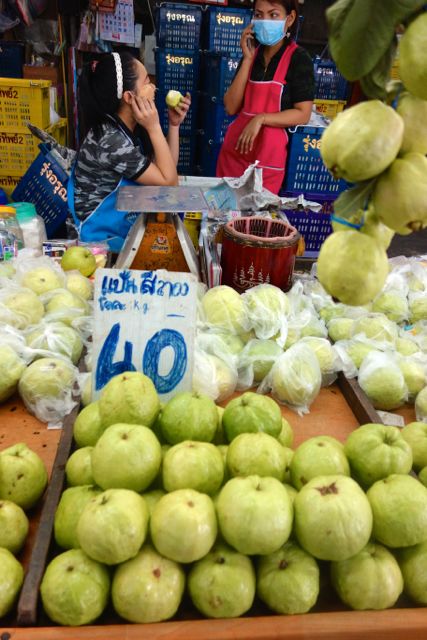 She was a different kind of explorer, having left her homeland in search of a better life. There are 2.6 million registered Burmese workers in Thailand, most working for half the minimum wage of just 300 baht per day. And yet, she flashed her warm smile and seemed content.
It's complicated, this global economy. Even as millions of Burmese exit Myanmar for higher wages, hoping to be welcomed by Thailand, about 140,000 Rohingya Muslims seek something similar by trying to live, unwanted, in Myanmar.
Much has been written about human rights issues around the world and the challenges and the complications. Yet, as I walked the aisles of this market, watching hard-working people trying to earn a living for their families, it seemed simpler. We can make this work.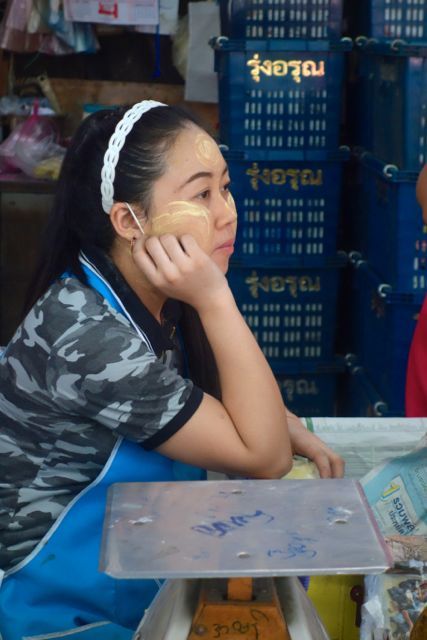 The young woman could tell I was a little puzzled and cut me a slice of the guava. It was familiar, like the texture of an apple or crisp pear; but unfamiliar, not as sweet. She seemed amused by my exploration.
As I bought a guava, and we exchanged both money and smiles, I was hoping we are all more alike than different.
What's upscale?
Stay at the Sheraton Grande Sukhumvit while you are in Bangkok, for a first-class experience in a great location — especially enjoy their breakfast buffet.
What's budget?
Markets, like the Klong Toey wet market on Rama IV Road, offer an array of delectable food treasures at a reasonable price.