The line formed more than a half-hour before the 11:00am opening and eventually stretched for a block. It was mostly young people, even on a weekday, chatting, checking their phones. And it was a patient crowd, those of us who arrived without a timed reservation, still counting on a timely entry. The weather was pleasant, as it almost always is in Los Angeles, as we waited outside.
We would not be disappointed, as we entered The Broad museum of contemporary art a mere 15-30 minutes after opening. We were now free to roam the collections for as long as we wished. The admission price? Also free. Audio tours? Just use an app on your phone. It's high-tech upscale on a budget.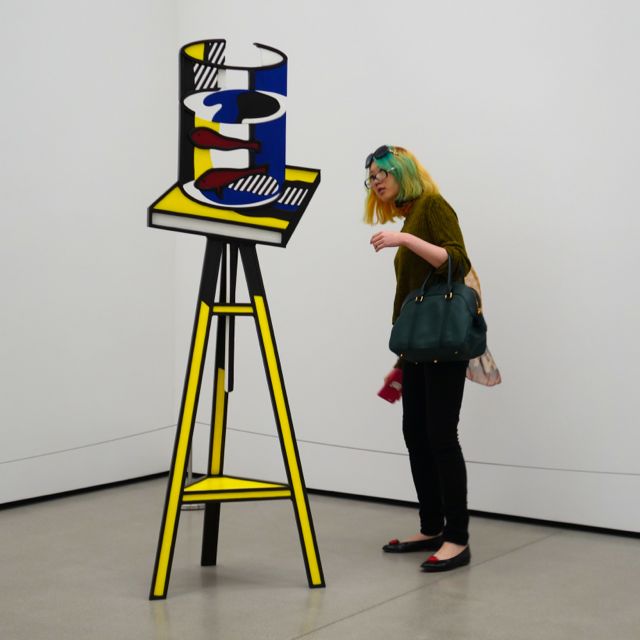 Who is the man behind it all?
Eli Broad (pronounced Brode) is one of those self-made men, coming from humble beginnings in Detroit. He attended my alma mater, Michigan State University, and went on to great success in the real estate world, first in Detroit and later in Los Angeles. Later in life he and his wife, Edythe, turned to art collecting and then to philanthropy. The first Broad museum, in its entire splendor, opened in 2012 at Michigan State. Now, Los Angeles is the recipient of another amazing gift.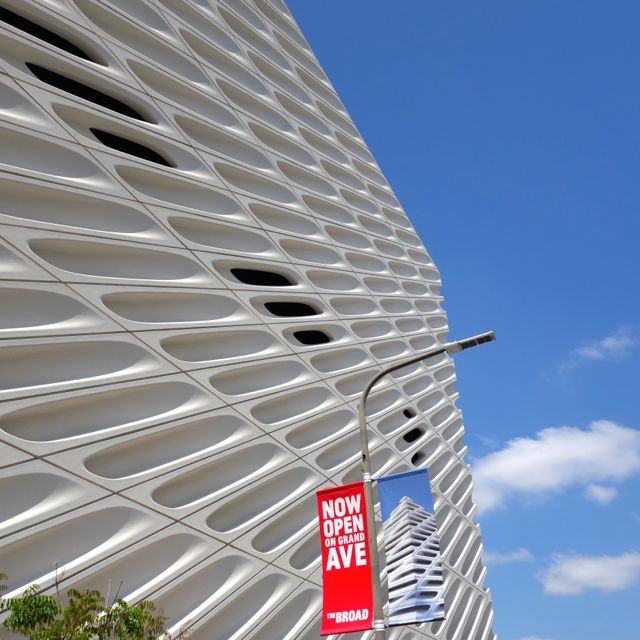 How do you get in?
With free admission, controlling the flow of attendance can be a tricky proposition. After some trial and error, they seem to have developed a workable system. You can reserve a timed admittance in advance by going online to TheBroad.org. Tickets are available beginning the first day of the previous month. For example, on June 1 they open the calendar for July. August opens on July 1.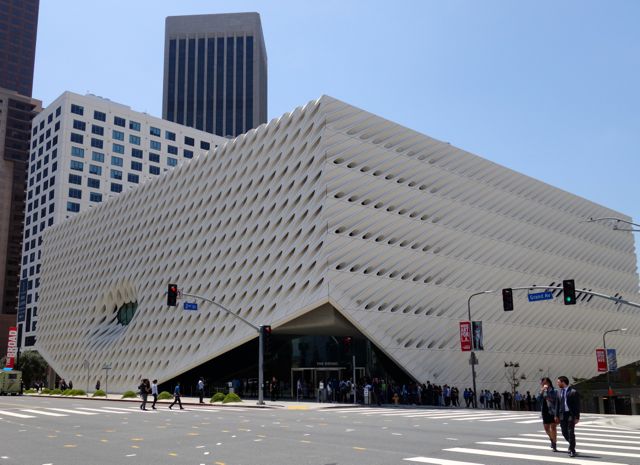 But what if you aren't that organized to plan many weeks in advance? No problem. There is a standby line every day. Waits can be as little as 30 minutes, but range upwards of 2 hours on a busy weekend or holiday. I waited a total of about 45 minutes on a weekday. Of course, the best way to work the system is to come before opening, as I did, or arrive fairly late in the day. If you are a theme park veteran, you know this drill.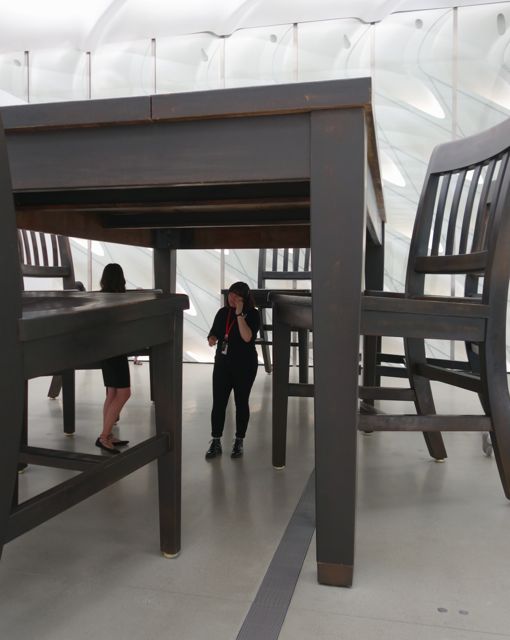 In keeping with the high-tech nature of the operation, you can check their Twitter account, @TheBroadStandby, for current wait times in the standby line.
There is also a third way to visit. Special exhibitions have their own admission schedule, also reserved online. I made reservations for the Cindy Sherman exhibition just a few weeks ahead of time. How that works is you arrive at your time, go first into the exhibit, then have free reign of the rest of the museum afterward. Note there is a charge for special exhibitions.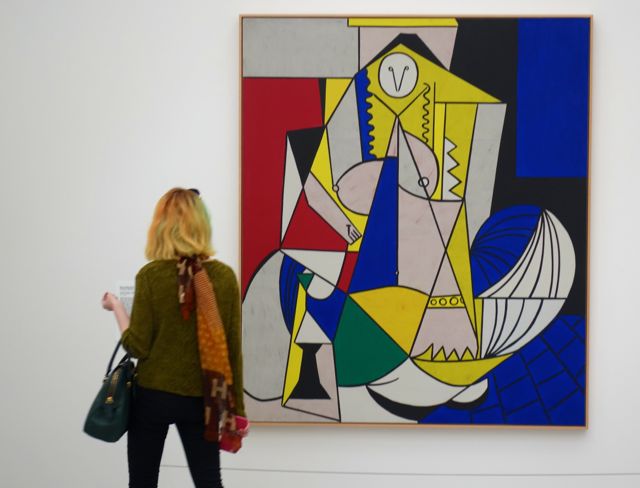 What is a contemporary art collection?
I had three semesters of art history at MSU, and I still had to refresh my memory as to the difference between modern art and contemporary art. The short answer is, modern art is a period, largely ranging from the Impressionists of the late 1800s up through about 1970. Contemporary is not a period, per se, but refers to art being made today. The Broad's collection is definitely contemporary.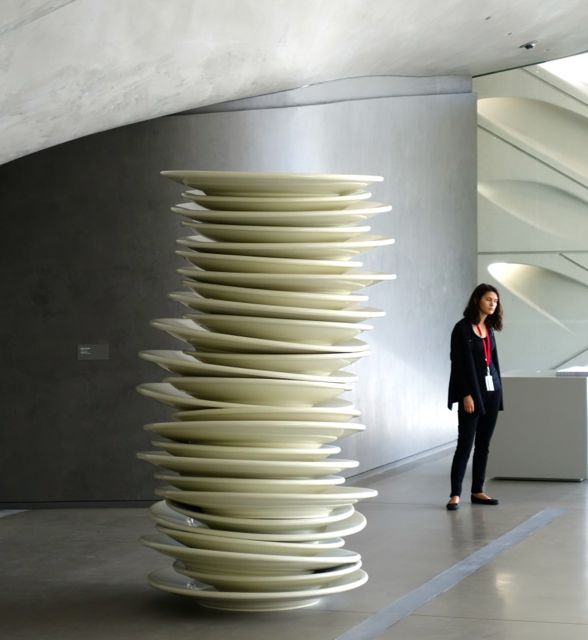 What are the highlights?
Nearly 2,000 works by more than 200 artists in the Broad collection are stored in the building. The third floor gallery consists of about 35,000 square feet, illuminated by 318 skylights. It could be the most perfect environment I have seen. Highlights are pictured throughout this post.
Several works by Jeff Koons are featured, including Tulips, Rabbit, and Balloon Dog (Blue), as well as the porcelain Michael Jackson and Bubbles. Fans of Roy Lichtenstein will be delighted by I…I'm Sorry, Femme D'Alger, and the three-dimensional Goldfish Bowl. Robert Therrien's room-size piece, Under the Table, is a favorite. His untitled stack of dishes sits in the lobby.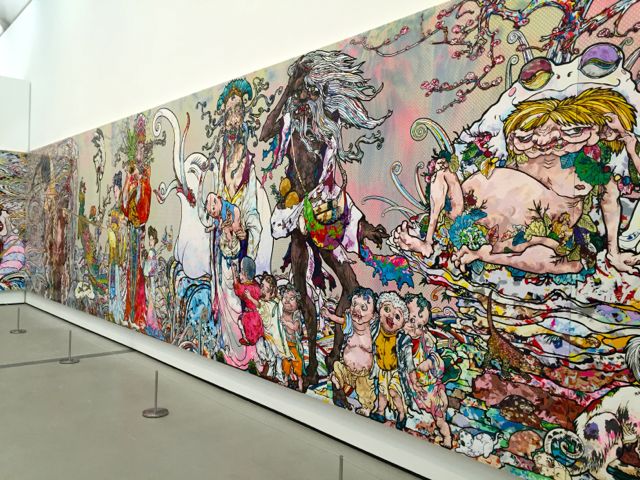 The gallery also features an 82-foot (25 meter) mural by Takashi Murakami. Glenn Ligon's Double America 2 is a neon highlight. Of course, many of these and other works may transfer in and out of the viewing space to keep the museum fresh.
One piece that hopefully will be a permanent fixture is Yayoi Kusama's Infinity Mirrored Room. Located on the first floor, it is described as "a mirror-lined chamber housing a dazzling and seemingly endless LED light display." The installation can accommodate one visitor at a time for about 45 seconds. It requires a separate free timed ticket. Go to a kiosk iPad when you first enter the building and sign up for your time. This is not to be missed!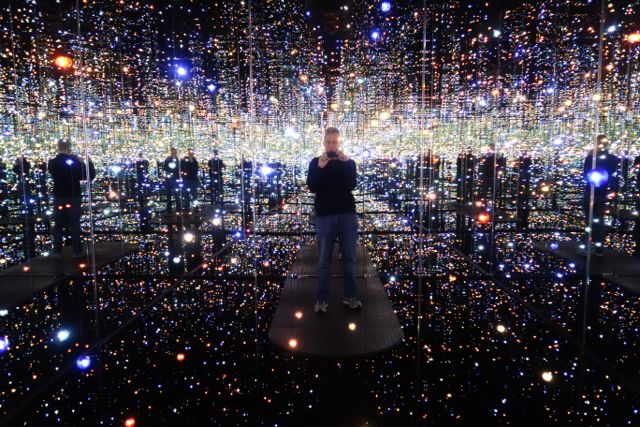 What else should you know?
Bring your camera! Photos are welcome for personal use, as is drawing with pencil. The museum is open Thursday, Friday and Saturday evenings; closed Mondays. I found the Visitor Services Associates to be both friendly and helpful. For example, my time to view the Infinity Mirrored Room was to be more than 2 hours. I asked a VSA about it. She said that is a worse-case scenario, as some people are no-shows and sometimes a couple will go into the chamber together. Sure enough, I got a text message to go see the exhibit about an hour earlier than expected. Nice.
Have you been to The Broad? What was your impression? Who were your favorite artists and works? Feel free to comment at the bottom of this post.
What's upscale?
The Broad is truly a world-class operation, both in facility and art collection.
Audio tours are via an app for your phone. Everything is high-tech.
What's budget?
Admission is free to the main exhibits and a reasonable charge for special exhibitions.