Luang Prabang sits about mid-way between Bangkok and Hanoi, but it is centuries apart. The time is now to visit Luang Prabang, Laos before tourism turns it into another bustling Southeast Asia city or even another Seam Reap. I will show you some of my favorite things to do in this beautiful land.
Walking the city
One legend about the creation of Luang Prabang tells us that Buddha would have smiled when he rested there during his travels. The city takes its name from a statue of Buddha, a gift from Cambodia. In declaring it a World Heritage town, UNESCO describes its "unique, remarkably-preserved townscape" as "an outstanding example of the fusion of traditional architecture and Lao urban structures with those built by European colonial authorities."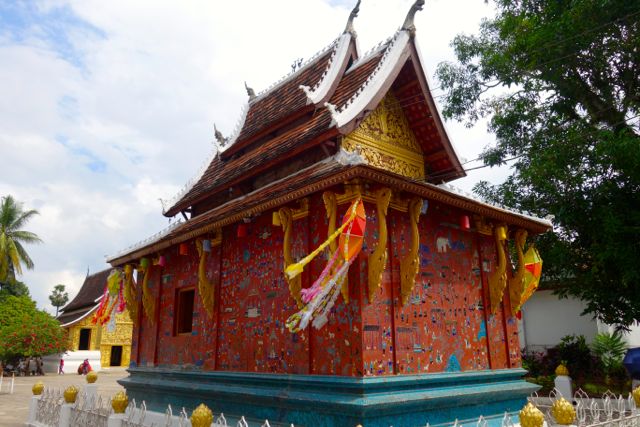 Indeed, the city itself is small and walkable in a day. I duck into numerous little shops in search of an eggcup, a rarity in Asia. There are plenty of incense burners, candleholders, small teacups and other near misses. At least it gives me a chance to interact with the friendly merchants. In fact, I am to find the Lao people to be perhaps the warmest and kindest people in my travels across Asia.
Temples (wats) mix with shops and restaurants in this charming town. It is smart to walk the length of the main street (Sisavangvong becomes Sakkaling), as well as venturing onto interesting side streets. The Mekong River and Nam Khan bend around the city to form a convenient peninsula. My detailed local map amuses me, listing points such as "sometimes walk bridge," for pedestrian river crossings, only in dry season.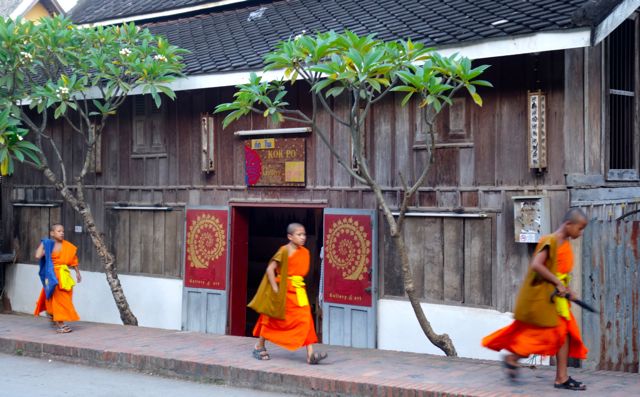 The colorful wats are numerous, nearly one on every block. And active with young monks after "tak bat," the daily procession to receive alms. Another line forms at one of the many coffee shops. School children pour out onto the street at lunchtime, heading back home to eat. It seems like a young society.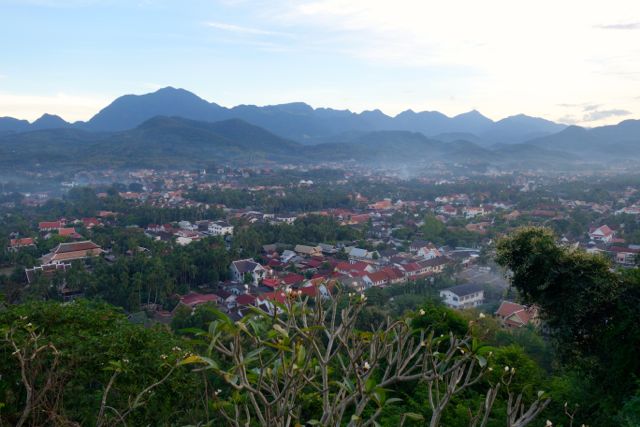 Mount Phousi
Speaking of wats, there are several to found on Phousi Hill or Mount Phousi, which dominates the landscape of the center of town. The conventional wisdom is to climb the 100-meter high religious site to Wat Chom Si, at its summit, in time for sunset. There are two good reasons for this. One, the climb is painstaking, so best to avoid the blazing temperatures and humidity of the middle of the day. Two, the view is spectacular over the city and surrounding countryside.
From the base at Ratsavang Road, I buy a bottle of water, and then walk up the more than 300 steep steps on the shady backside of the hill. My descent is from the front, with great views of Haw Pha Bang or Royal temple, arguably the most beautiful of Luang Prabang's monuments. This also places me in the heart of the night market just as it begins to rev up.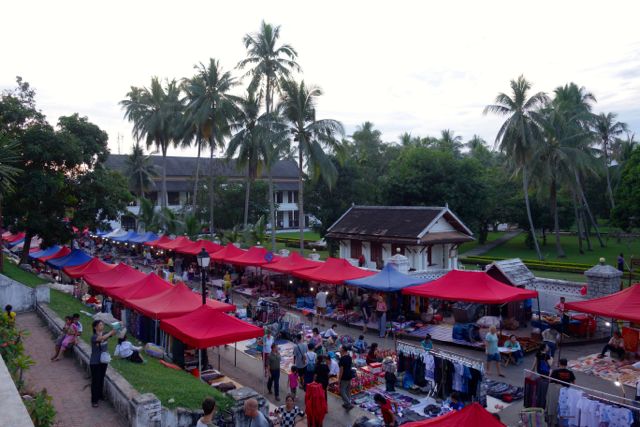 The main street in town turns into a pedestrian-only zone every evening for the sprawling night market. Like most Laos events I encounter, it seems to have a more casual feel than the highly organized, sometimes frenetic night markets in places like Chiang Mai. Cars and tuk tuks disappear and handicrafts are neatly spread out on the street.
My first night, the electricity in town goes out, replaced by candles and little generators powering strands of single light bulbs. I am told this happens often enough that everyone from vendors to restaurants is able to quickly cope with the inconvenience.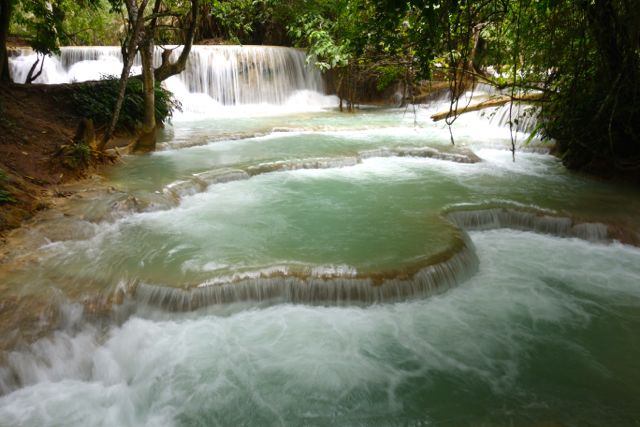 Kuang Si waterfalls
A trip to Luang Prabang is not complete without venturing into the nearby countryside. If you search Kuang Si waterfalls on Google you will find many articles encouraging you to go there. All you really need to do is click on images, and you will be sold. These are some of the most dreamlike waterfalls I have ever encountered.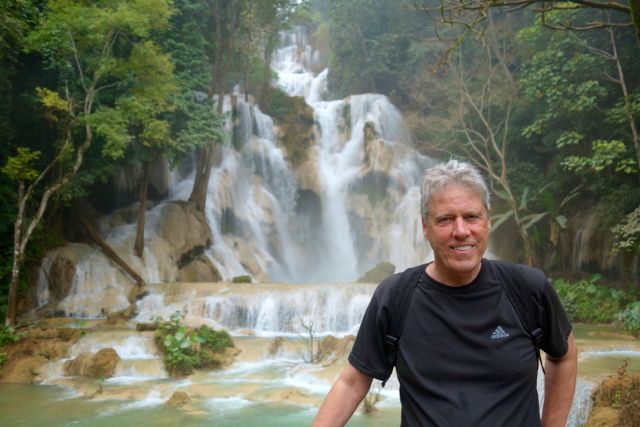 The driver supplied by my hotel, Satri House, turns out to be the mayor of a district of Luang Prabang. His perfect English helps make him an excellent guide. First, hire an air-conditioned vehicle; the 30km drive is too long and hot for a tuk tuk. Second, go by 9:00 in the morning. I had these amazing waterfalls to myself for quite a while. Third, skip some of the tourist traps, such as the butterfly park and ask your driver to stop along the way; you will see the same butterflies in the wild.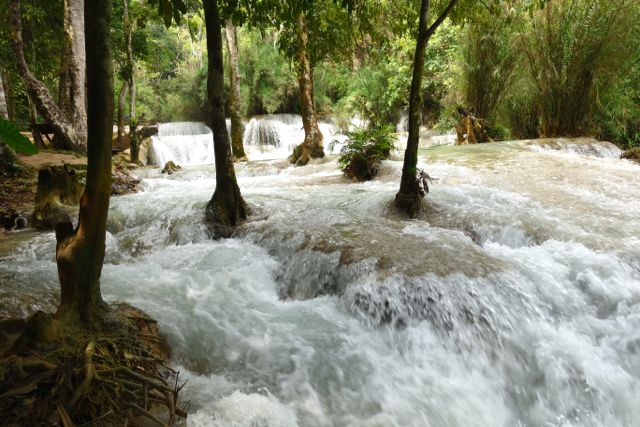 The turquoise waters of the Kuang Si waterfalls have been called the most beautiful natural setting in Laos. They cascade into pools, then rush like a powerful stream, only to gently settle into pools again and again. There are places to swim or wade or just follow a convenient path along this azure natural wonder.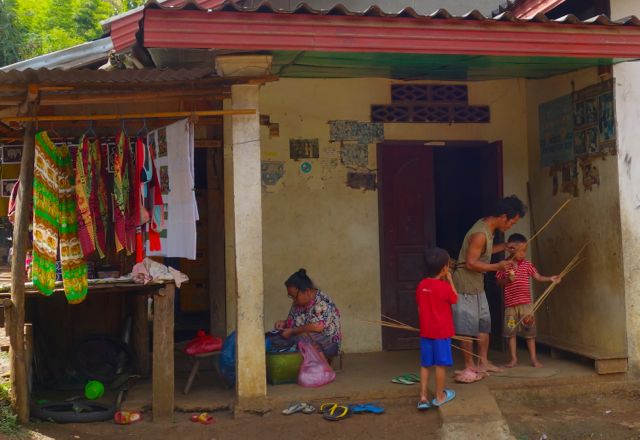 Hmong tribe village
The Hmong people are an ethnic group living in the more mountainous sections of Myanmar, Thailand and Laos. It is easy to ask your driver to visit a small Hmong village on the way from Kuang Si waterfalls back to Luang Prabang.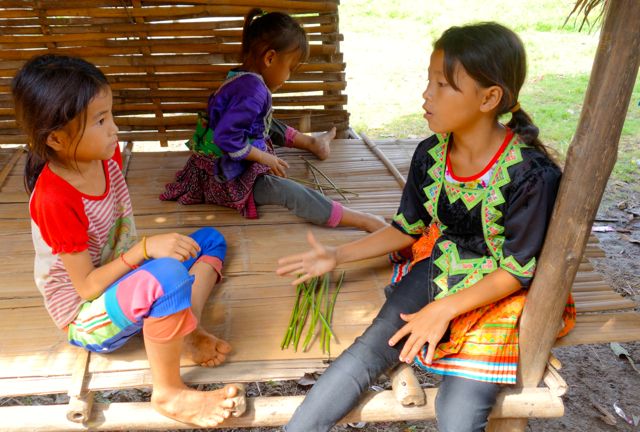 These people have had a horrible past, especially in Laos. It makes sense to visit their villages today and to purchase some of their wonderful handicrafts. The feeling is of a simpler time, as I watch children play a game with rocks and sticks. They don't have much in terms of material things, but they are happy. The villagers raise cattle and grow crops to support themselves, but tourist purchases of their colorful wares help.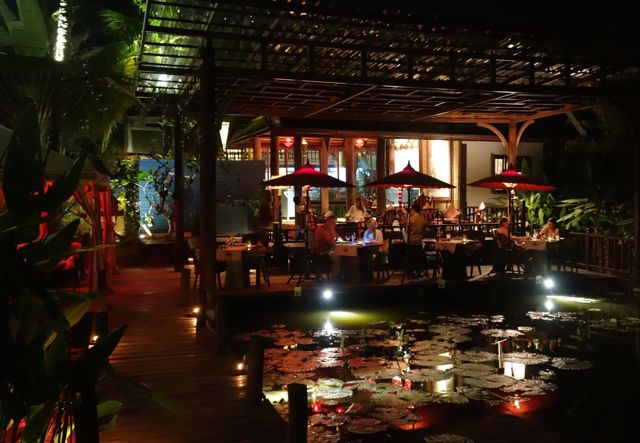 My favorite restaurant
There is a reason that review after review on Trip Advisor refers to Manda de Laos as the best restaurant in town. Owner, Toune Sisouphanthavong, tells the story of the property that has been in the family for generations. First, the setting is magical, with tables that overlook three lotus ponds that have been registered as a UNESCO World Heritage site. It is pretty in daylight and romantic at night.
Second, the drinks are creative and the perfect way to unwind after a long day in the heat.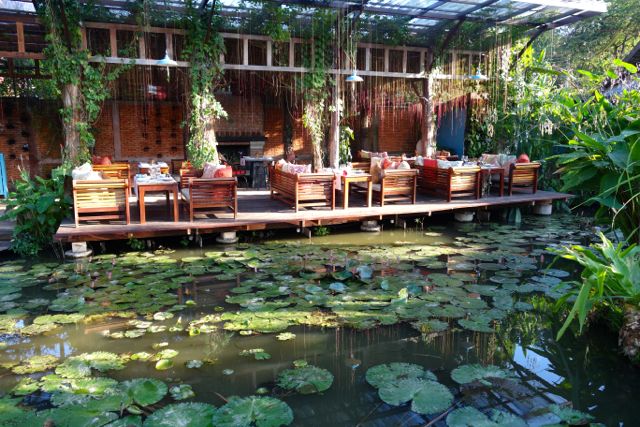 Third, the food is remarkable, albeit expensive for this city. The recipes have been handed down from Maman Phiew, who learned to cook traditional Lao dishes, with their full day of preparation, from her mother.
Over a couple of nights I am able to try numerous dishes. Notable were the spring roll appetizer, banana flower salad or Yam Mak Pee (banana blossom mixed with shredded chicken and Lao herbs), Mok Kai (steamed chicken in red curry with coconut milk and kafir lime leaves), and best of all, Ping Dook Moo (jungle honey glazed spare ribs with herb salad). Room for dessert? Try Sangkhaya Makpao (steamed coconut crème brulee).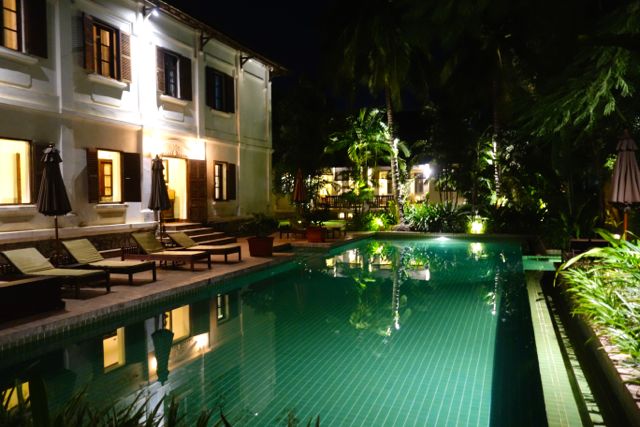 My favorite hotel
For a small city, Luang Prabang has a wide selection of accommodations ranging from hostels to luxury. My favorite for the upscale traveler has to be Satri House. Built around the Royal Mansion of the late Prince Souphanouvong, it has maintained its French Colonial architecture despite several new additions. The grounds and pools are simply gorgeous.
Tucked away on a usually quiet side street on the lower end of town, it is still a reasonable walk to all parts of the city (or use their free bikes). Staff is friendly and tries to be helpful, although one must remember that tourism and customer service are still in their novice stage in Laos.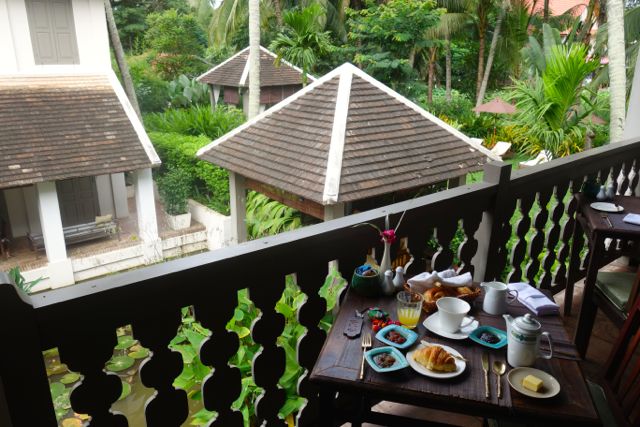 My air-conditioned room is large, with dark wood and all the luxury amenities (television available on request). The ample breakfast is included, served on an open-air terrace. Food is cooked to order, although somewhat limited in selection. In general, a stay here evokes a classic Southeast Asia feel, a perfect match for your upscale Laos experience.
What's upscale?
Satri House is one of the more expensive lodgings in the city, but worth the cost for this memorable retreat. Manda de Laos is one of the pricier restaurants in town, but the food and drinks are outstanding.
What's budget?
Get a driver for the day to take you to sights that are out of town. And an air-conditioned vehicle is not much more than an uncomfortable tuk tuk. In general, Laos can be a legitimate budget destination for Southeast Asia.