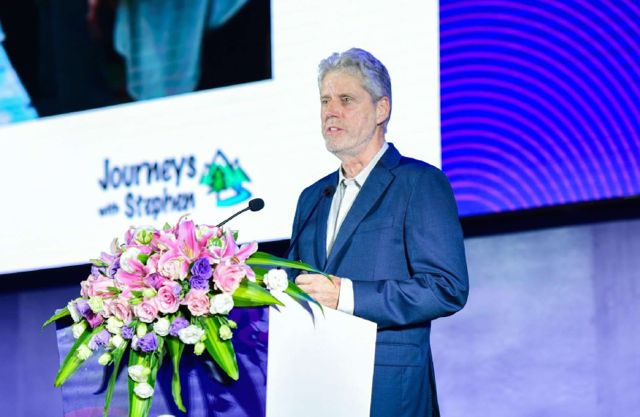 Having traveled to 53 countries and more than 600 cities, I have learned some lessons about what to take, how to take it, and what to leave behind. Now I share these little secrets, from gadgets to apps to packing tips, in what I call Stephen's travel tips for 2018.
Clearly the smart phone is the new Swiss Army knife of travel, taking the place of a bulky camera, heavy books, flashlight, alarm clock, notepad, maps, and more. Of course, until it can open a bottle of wine, it won't replace a real Swiss Army knife. There are now scores of smart phone apps we travelers depend on. Here are some of my favorites.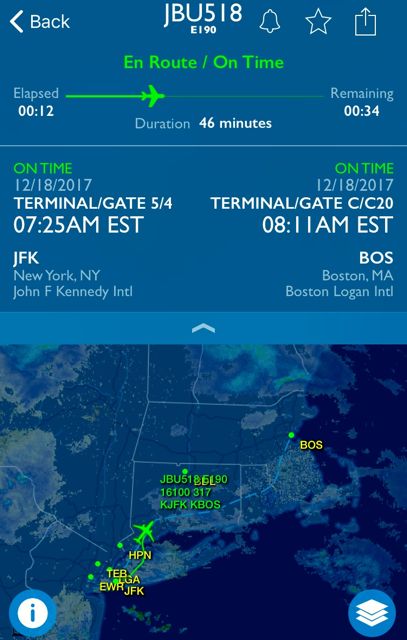 1. Apps for the international traveler
Only around since 2011, this Chinese "app for everything" has an international version with some unbeatable features. Sign up your family and friends, and you can message (text, audio, and more) or call them (audio and video) for free over Wi-Fi from around the world. And this is only the tip of the iceberg for WeChat, whose payment system is turning China into a cashless society. No wonder there is more than 1 billion active users. Note: I still use Skype for one-time direct calls.
How many Thai Baht to a U.S. dollar? What is 17 degrees Celsius in Fahrenheit? How many milliliters in a cup? GlobeConvert handles more than 160 currencies and 350+ physical units. If you are online, currency rates are updated every hour and saved if you are offline. Fast. Easy. Free. I use this app nearly every day in foreign countries.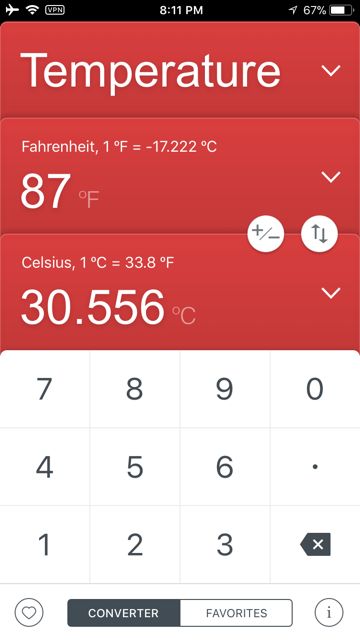 Say goodbye to paper maps and clumsy guidebooks. There are numerous apps that give you clear navigation for public transportation systems around the world. I use several, each usable offline. MetrO gives you point-to-point directions in more than 400 cities around the world. City Rail Map has beautifully drawn maps for about 60 international cities and is good for offline use. I like Explore Metro for easy-to-read subway maps for numerous cities across Asia.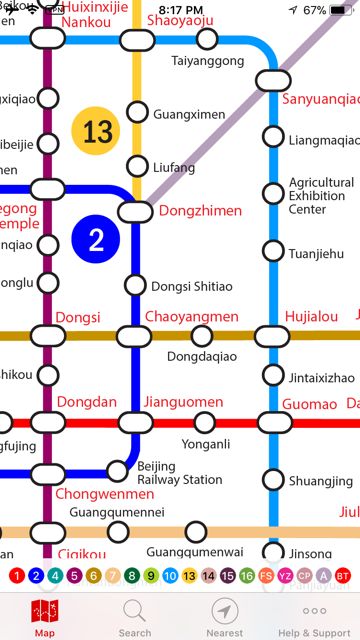 I nearly always check FlightAware before I leave for the airport. It tells me if my flight is delayed before the airline alerts me. I use it right up to wheels up for accurate departure and arrival information. Meeting an international flight? You can track its progress across the globe, so you know precisely when to meet your arrival party.
Google Translate and Waygo apps
OK, there are lots of translation apps out there, but I like Google Translate for its simplicity and the fact it features about a zillion languages. I still prefer Waygo for visual translation of Chinese, Japanese and Korean. I just point my phone's camera at the words and real-time translation is displayed, including pronunciation. Perfect for signs and menus.
See a lengthy Internet article that you don't have time to read right now? Pocket it to read offline later. Is the flight attendant telling you to switch into airplane mode? Just Pocket and keep reading. I use this app so much the people at Pocket recently informed me I was in the top 5% of their users, having read more than 300,000 words in 2017. To me it's more valuable than iBooks or Kindle (but I need those too!).
What are your favorite travel apps? Feel free to comment at the bottom of this post.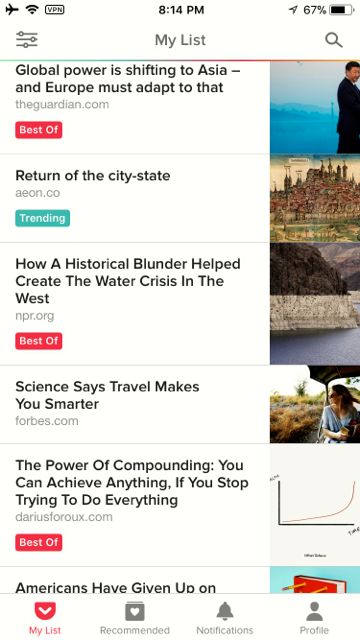 2. Simple electronic gadgets
I own two nice pairs of earphones, and I never travel with them. They just take up too much space in my carry-on daypack. These days noise-cancelling earbuds are the best answer for sound and size. And don't forget to carry a two-prong adapter for planes that require that input.
Even though phones and laptops and shavers pretty much handle voltage conversion, I find myself often using my little voltage converter. Sometimes it's just a handy plug adapter; sometimes it's needed for devices that might otherwise be damaged.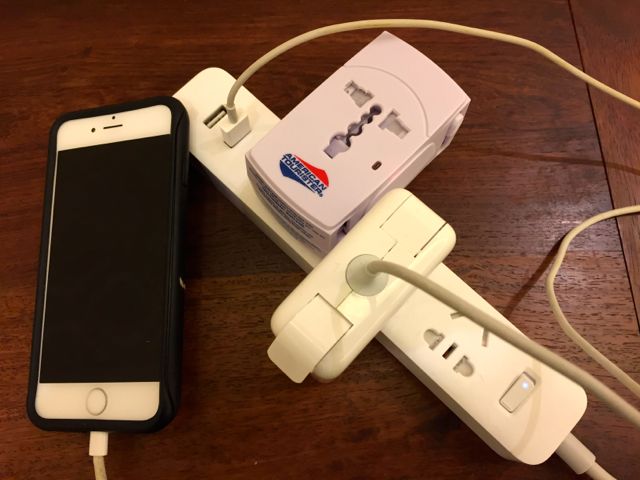 I was glad I took a multi-outlet power strip on an international cruise, as even my suite had few outlets in hard-to-reach places. And who knows what kind of power surges you might encounter in Laos, when the whole town of Luang Prabang loses electricity in the evening? A small surge protector can be a good investment.
USB drive and standalone device charger
Sometimes in a faraway land you just need to print a document. I have found the easiest solution at an upscale hotel is to hand them the file on a USB drive. Lastly, I always carry a tiny device charger, so my phone never runs out of battery, even on 20-hour journeys halfway across the world.
3. Drug store in a Ziploc bag
This travel secret was important enough for me to write an entire post about the need to carry a quart-sized Ziploc bag for medicines and another for first-aid. My carry-on backpack is never without these. Check out the details and pictures here.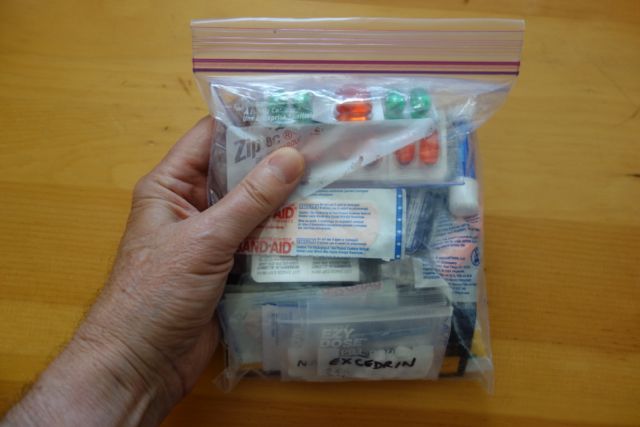 4. Little things to pack for every trip
Leakproof plastic bottles
The airlines prohibit anything but small containers of liquids, but mouthwash and shampoos and conditioners and other lotions are sold in big containers. I have found the secret in leakproof plastic bottles. I found some at the Container Store, but they are easily available online. You never have to worry about spills in carry-on or checked baggage and you can take as many as will fit in a quart-sized bag.
Carry it in leakproof bottles and you have your laundry soap for hand-washing clothes, quick stain removal, and other uses. Avoiding exorbitant luxury hotel laundry fees, this fits in with our upscale on a budget philosophy.
Speaking of laundry, what if you are staying in a vacation rental property for a week, with a nice washer/dryer but no detergent, fabric softener or static control is provided? Stores usually only carry these in large containers. The answer is easy-to-carry 3-in-1 dry laundry sheets (available online). Throw one in with your load of clothes and voila!
Ziploc bags in various sizes
Plastic bags that zip shut are the Swiss Army knives of travel containers. Empty, they take up little room and weight in your bag. They are perfect for storing leftover food, that swimsuit that didn't quite dry before your flight, pre-moistened hand wipes, and more. Unlike hard containers, they take up only as much room as their contents. I recently visited five countries in a month, and small Ziploc bags were handy for sorting the cash and coins of multiple currencies. I roll a bundle of empty bags and fasten with rubber bands and twist ties, which are handy in their own right.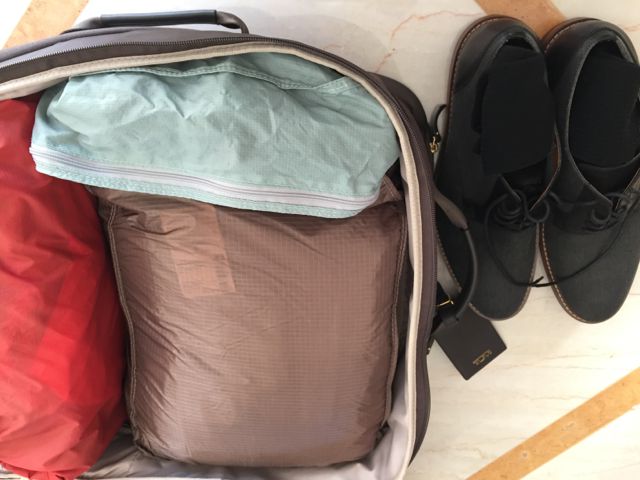 I recently became intrigued by packing cubes, not only as space savers, but also as a way, on shorter trips, to live out of a suitcase for several days. Your clothes and other items stay pretty organized.
It seems everyone has a method for saving space, which is really important if you want to take a long trip with only a carry-on rollerboard. Most of us travel with several pairs of shoes. I always stuff mine with socks. The space savings is noticeable.
I always take a pillowcase in my on-board Marmot daypack. Then, I roll my Mammut coat or a sweatshirt or sweater and place it inside for an instant pillow. I stopped carrying those bulky neck pillows, and go for the comfort of a soft pillowcase. It's handy, even sleeping in business class, to have your own, familiar pillowcase to promote a good night's rest.
Do you have any other packing tips? Feel free to comment at the bottom of this post.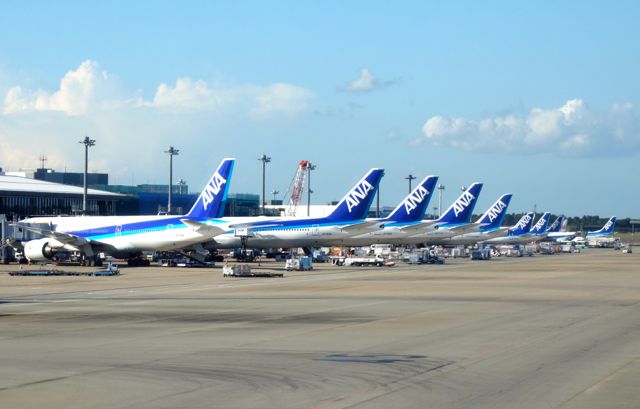 6. Fly nonstop with carry-on only
I have had enough bad stories with connecting flights that I wrote this post to explain why pay extra to fly nonstop. Adjunct to this advice is to always try to fly with carry-on only and not check a bag. In addition to not paying exorbitant baggage fees, there is also the time savings from not having to go to the ticket counter or to wait at baggage claim. Recently, I went ahead and checked a bag because I was flying on a small plane within Europe. Sure enough, my bag failed to arrive, leaving me scrambling for 24 hours without valuable items. And I was staying at an Airbnb, which the owner later admitted was not legal, so he didn't want luggage delivered to the address. The moral of the story I already knew: try to fly with carry-on only.
This tip for 2018 is a simple one, but one of the most important. I created a spreadsheet of all the items I could possibly take on a trip. Then, when I start to pack, I check items off the printed list. Rarely do I forget to pack something since I started this process. It's especially good for things I don't use everyday but need for a specific trip (a tie, foreign currency, umbrella, power cables).
Speaking of lists, if you take a long trip with friends or family, you are likely to have a lot of luggage, shopping bags, backpacks, laptop bags, etc. I always do a count: "OK, we have 9 pieces." Then, when we depart the hotel room or taxi, I count again. It is surprising how many times a piece has been almost left on a rental car bus.
Finally, don't stress. Most things are replaceable. I'm always asking myself and travel companions, "Do you have your passport, wallet, cell phone?" Armed with those three things, you are ready to travel!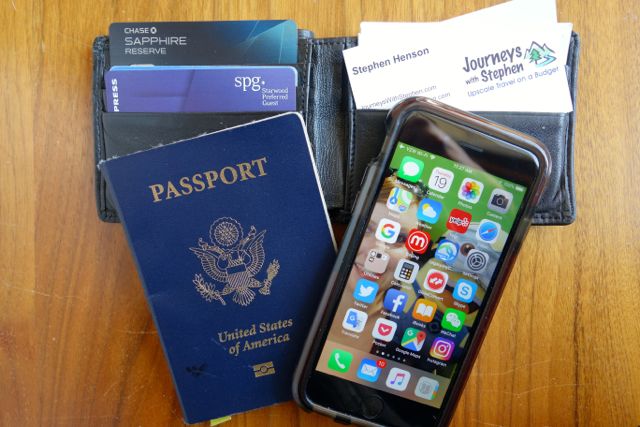 8. Tips and advice for 2019 and beyond
Not that many years ago I would have recommended a slick portable DVD player. That was replaced by an external drive to my MacBook Air that I could take or leave home. Now, thanks to streaming services, DVDs have gone the way of cassette tapes.
So what tips for 2018 will we look back on and chuckle about that advice? Will we stop using cash altogether throughout the world and pay in every country via our phones? Will voice translation via our phones (or watches) become truly real-time, eliminating the need to even learn basic phrases in a foreign language?
Will all devices become solar powered, so we can ditch the voltage converters and power strips? Can we travel with self-cleaning clothes? Will aviation authorities start letting us carry large liquids, placed in bags of all sizes that fly for free? OK, we may never see that last one, as the trend is headed in the other direction.
Still, I look forward to updating this list with innovative new ideas every year. Safe travels!