Have you ever considered a trip to India? What about a cruise through the Mediterranean? Do you dream of going on a safari in Africa or maybe hiking to the bottom of the Grand Canyon? How would you decide? Who would you ask? Where do you even start? The answer is to attend a travel show, where hundreds of experts are gathered together to help you begin your research.
You will come home with a head full of ideas and a bag full of glossy brochures. It's low pressure. It's entertaining. It's informative. It's a day of fun!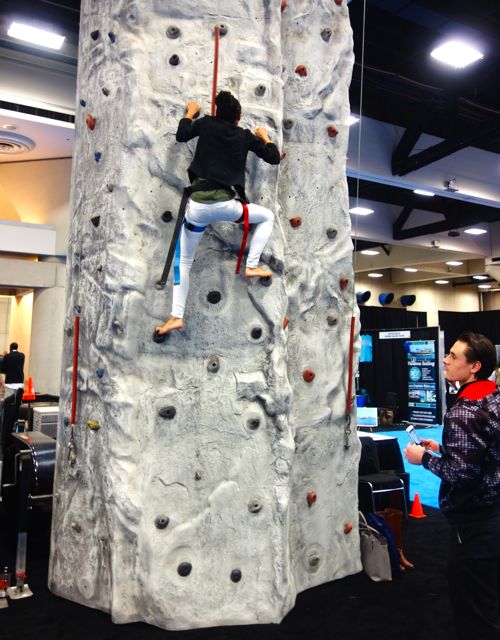 In the U.S., my favorite is the Travel & Adventure Show. Held on a Saturday and Sunday in some major market convention centers, they are just the ticket (and tickets are cheap). In 2016, the show is in San Diego, Chicago, Dallas, Washington DC, Los Angeles (Long Beach), SF/Bay Area, and Philadelphia. A complete rundown can be found at travelshows.com.
First, this show features hundreds of exhibitors across a wide range of interests and geography, from the Taiwan Tourism Bureau to Himalayan High Treks to the Zulu Nyala Game Reserve.
Second, you can listen to keynote speakers, such as Samantha Brown, Patricia Schultz, Pauline Frommer, and Rick Steves, as they share their travel insights
Third, there are performances from cultural to culinary – dance and music groups to cooking demonstrations from notable chefs.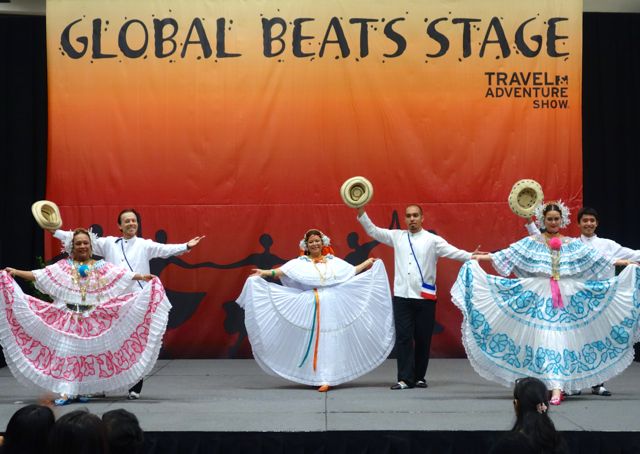 Fourth, there are activities for you, which range from rock climbing to zip lines to Segway riding.
Finally, there are prizes, show-only specials and other travel giveaways.
The same company runs all the Travel & Adventure Shows. But some U.S. cities have their own travel shows, such as New York and Boston. You will have to do your own research to see if there is one in a big city near you.
Of course, the U.S. isn't the only country to get in on this act. For example, the International Tourism and Travel Show in Montreal covers three days in October. And ITB Berlin claims to be the World's Leading Travel Trade Show. These bragging rights are backed up some 10,000 exhibitors from 185 countries for this 5-day show for both the trade and public.
A rather exhaustive list of worldwide specialty shows can be found at world-tourism-exhibitions.com. It is a great place to begin your search.
So what have we learned from the celebrity speakers so far?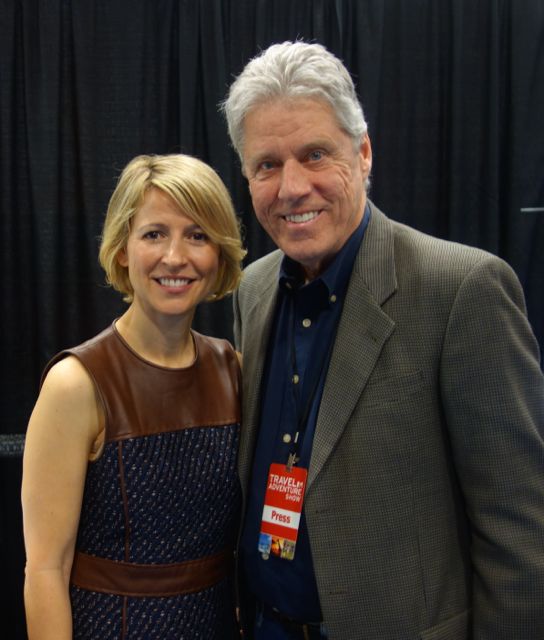 Shown above is the always enchanting and affable Samantha Brown, from the Travel Channel. She is someone I could listen to for hours. Why? Her speeches are always fresh and full of wide-eyed stories from the road. She really embodies all that is magical about travel in a down-to-earth manner.
Some of Samantha's messages this year:
The most memorable travel is never in the must-sees, always in the mundane.
Her two pillars when on a trip are 1) go for a walk and 2) create a ritual. After viewing artwork and monuments and history to the saturation point, she likes to just ramble – to take two hours and go for a walk. No expectations, except to encounter the local people.
Samantha creates a ritual by doing the same thing every day – her way of settling into a new place. In her case it is often to visit the same coffee shop every day, eventually striking up conversations.
I will have to agree that the absolute best travel memories for me involve people more than places; the special connections you make in an otherwise foreign environment.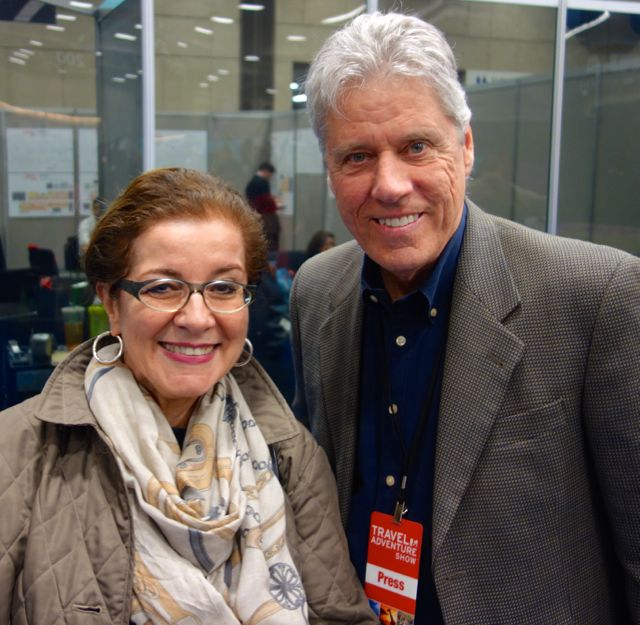 I met Patricia Schultz, shown above, for the first time. She is the celebrated author of the best-selling "1,000 Places to See Before You Die." She talks with passion about her love for Italy (she is half Italian, half German) and especially Venice. Who would disagree?
Patricia's speeches this year remind us to try new locales – not just Prague and Budapest, but Romania; not waiting for things to "settle down" before venturing to Jerusalem and Tel Aviv; seeing both St. Petersburg and Moscow; exploring Africa.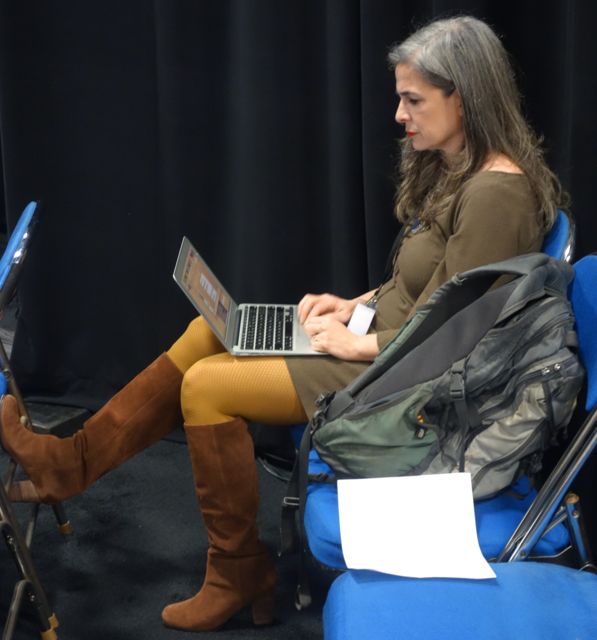 Pauline Frommer, pictured above in a pensive moment, is sort of travel royalty. Her father is Arthur Frommer, who practically invented the travel guidebook, and who, at age 86 is still quite the traveler. Pauline now runs the Frommer's publishing empire, but is as approachable as she is smart.
Her speeches are always a wealth of information, based on research done by the company:
The best airline search engines for finding low fares are surprisingly, skyscanner.com and momondo.com.
The best site for hotels is hotelscombined.com, followed by trivago.com, and Agoda.com for Asia.
Rivercruising.com is the place for comparing those kinds of cruises.
To simplify travel insurance, check out squaremouth.com and insuremytrip.com.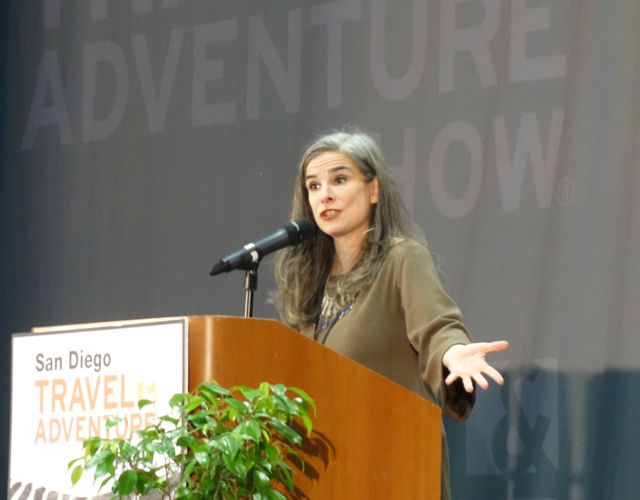 Peter Greenberg, the Emmy award-winning investigative reporter and CBS News Travel Editor also spoke at the show I attended, but unlike Samantha, Patricia, and Pauline, I didn't get a chance to speak with him. He gives a no-nonsense speech about travel though, and delivers a lot of detailed advice on how to do battle with the airline and hotel industry.
You should allow a half-day just to listen to these celebrity travel speakers. You will come away much smarter.
Samantha Brown cited a study by projecttimeoff.com that found 4 in 10 American employees finished the year with unused time off. It resulted in 429 million unused days off. The rest of the civilized world thinks we're crazy. They're right. Get out there and travel! A travel show is a great place to get started.