I am dealing with the urban sprawl and hectic pace of Tokyo, and I long for a more manageable Japanese cultural experience. Kyoto is just a couple of hours away by bullet train. Is it worth trying to see Kyoto with just a weekend to spare? The answer is yes!
I often visit a place the first time on a "highlights" schedule to determine if I would want to return and spend more time or not. One might argue that two days would not do Kyoto justice. I would argue that two days begins to give one the appreciation that this is a special region worth a deeper exploration, but still satisfying for a short visit. So here goes!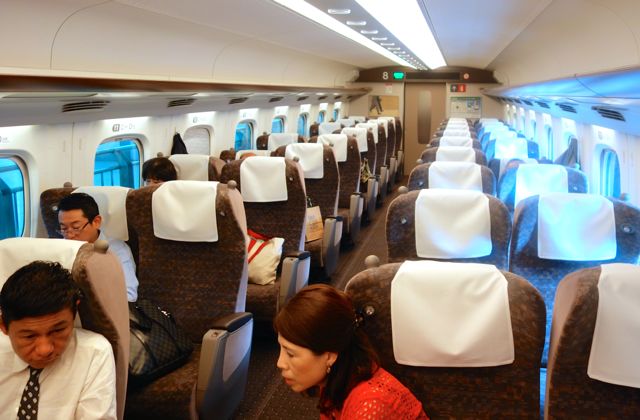 I depart Tokyo's Shinjuku station Friday morning on the Shinkansen bullet train for a direct trip to Kyoto. We reach speeds of 320 km/hr. By lunchtime I have checked into the Westin Miyako and am ready to explore some temples or shrines.
First we need to understand the difference between a temple and a shrine. Westerners could think of it as the difference between a church and a synagogue. The Shinto religion, often associated with more earthly matters, is practiced at a shrine. Buddhism, the religion of more spiritual matters, is practiced at a temple. That's a simplification, but it works for now.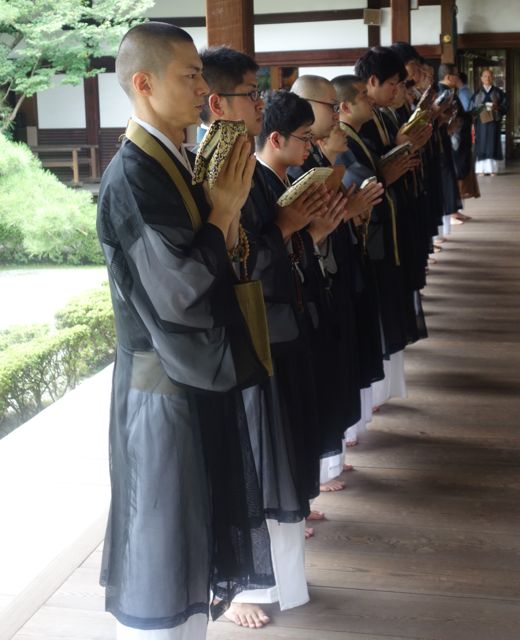 So we must visit both a shrine and a temple. But there are thousands to choose from. This weekend we will see the three I would suggest on a short first-time trip.
Ginkaku-ji Temple (The Silver Pavilion)
From my hotel, this temple is at the end of a pleasant stroll along an old canal lined with cherry trees. The adjacent little alley is called "The Path of Philosophy." It is also temple row, with inviting stops at Nanzen-ji Temple, Eikan-do Temple and several others. At the end of the path we reach our destination.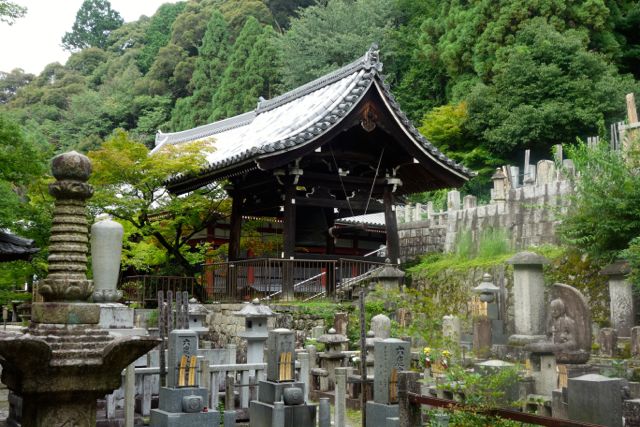 While it is called The Silver Pavilion, it is not coated in silver leaf. Instead, this 15th century temple is a perfect example of a complex of buildings and gardens and woods that inspires peace and tranquility. You could be hundreds of miles from the city, but you are not.
In some ways Ginkaku-Ji (aka Higashiyama Jisho-Ji) will become my favorite temple in Kyoto. The crowds seem to be elsewhere, and one can reflect and appreciate all things natural and spiritual. I stroll the grounds, watch monks, and see a little fountain with water shooting out of a dragon's mouth. A tiny cemetery is both reverent and picturesque. Allow a couple of hours for the whole experience in tranquility.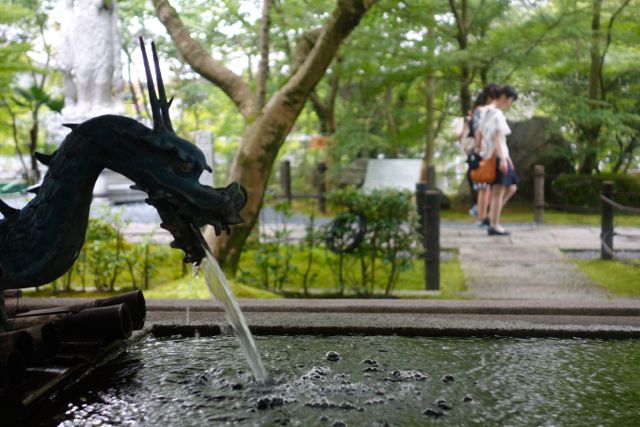 Friday evening I visit the famous Gion or Geisha district.
Gion is the most famous district of Kyoto, with traditional homes and businesses tucked neatly along backstreets. The best way to see it is with a guide. WaRaiDo offers an English-speaking guide who conducts about a 3-hour walking tour on Friday evenings, perfect for our weekend getaway.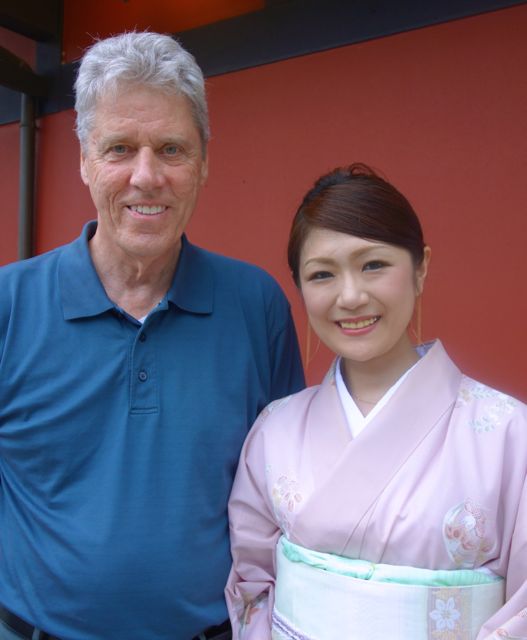 You will learn more than you thought possible about the world of Maiko (apprentices) and Geisha culture. It is a great way to be immersed into the history, life, and entertainment of Kyoto. As a tip, I suggest arriving to the tour early so you can get to know the guide and bombard her with a million questions before others arrive.
We have a lot to accomplish on Saturday, our one full day in Kyoto – shopping, a shrine, dinner, a street fair – so let's get going!
I'm not a big shopper, especially when time is limited. But I do enjoy a local city market. Kyoto has several, but none better than the famous Nishiki Market. From fashion to food, this area, which actually encompasses several streets just off the main shopping drag downtown, is a treasure.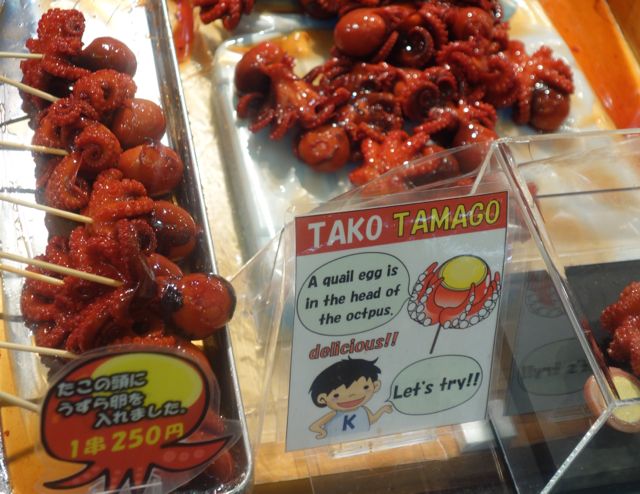 Boutiques range from a store where you can buy Japanese kimono sandals with matching purse to a dedicated Hello Kitty store. I find a shop that sells local crafts and buy a little carved and hand-painted penguin for my daughter.
There are plenty of food stands. I can't bring myself to try quail egg cooked inside the head of an octopus, but a homemade green tea ice cream cone hits the spot on a hot day.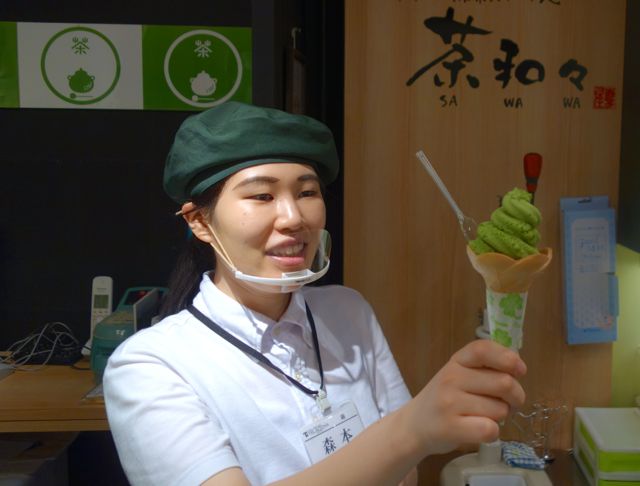 It's then a short subway ride to Fushimi Inari-taisha Shrine.
This is number one on the greatest hits of Japanese shrines. The immense, hilly grounds are marked by thousands of bright orange torii gates that seemingly wind on forever. Eerie graveyards and miniature shrines highlight the breaks between them. There is plenty of history, too. The shrine was dedicated to the god of rice and sake back in the 8th century.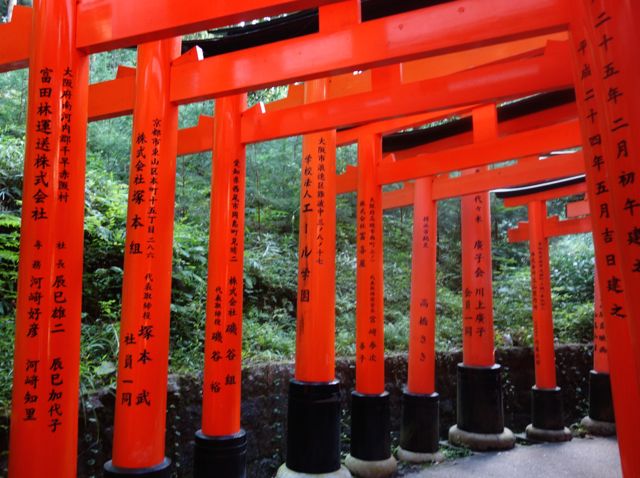 Photographers will have a field day here. Hikers will be delighted by the enormous hilly layout. People-watchers will see plenty of kimono-clad girls. Casual visitors can just take in a portion and leave the rest for another time – and there must be one!
The shrine is just a few-minute walk from either the JR Inari station (JR Nara Line) or Fushimiinari station (Keihan Line). You must allow at least a couple of hours for walking the grounds, but a half-day is preferable.
All this walking has made me hungry!
Japanese food is great. I'm guessing this is not the first time you have heard that. The biggest challenge in Kyoto is trying to choose from a seemingly endless array of cool restaurants that line the Kamo River, which slices through the heart of the city. In the summer, open-air dining areas unique to Kyoto, called Yuka, are constructed. That even extends the myriad of options.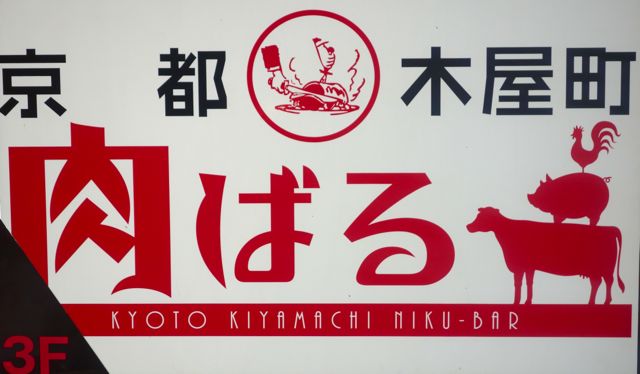 The place I choose for dinner specializes in grilled meats. The menu includes duck, deer, boar, ostrich and horse. Inspired by their restaurant sign (see photo above), I'm obliged to order the chicken/pork/beef steak combination. The edamame is the best I have ever eaten and the fries are spiced with wasabi. I wash it all down with a few local craft brews. Gochidou sama desita.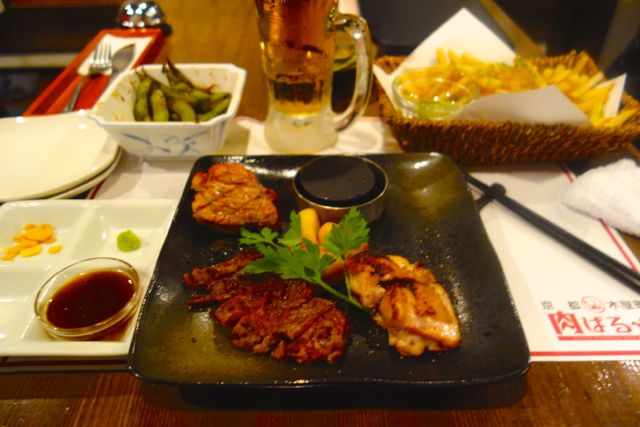 Strolling down Kiyamachi Street after dinner, I encounter a nighttime local street fair. A hundred people are participating in some kind of local dance, many dressed up in kimonos. There are little games (I try hard not to win a goldfish). And for sale, cans of beer floating in tubs of icy water (I try hard to win this game). Everyone is smiling and friendly to me, though I seem to be the only foreigner crashing the party.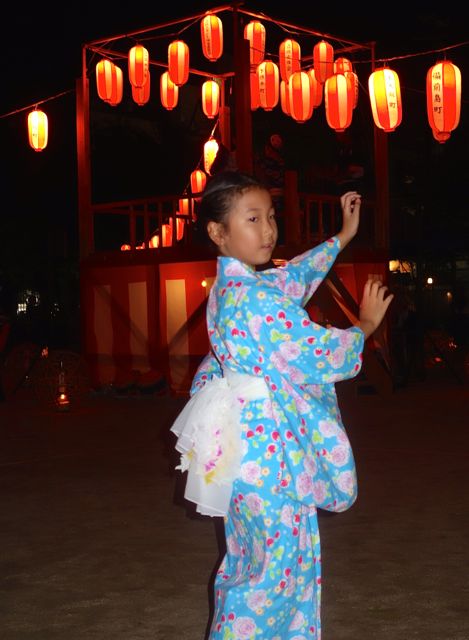 It looks like the nightlife is just beginning in Kyoto, but it has been a long day. Plus, we have one more temple to visit early Sunday morning.
Kinkaku-ji Temple (The Golden Pavilion)
This splendid temple is literally the symbol for Kyoto. Originally built in the 14th century, the current gold leaf-coated structure was reconstructed in 1955.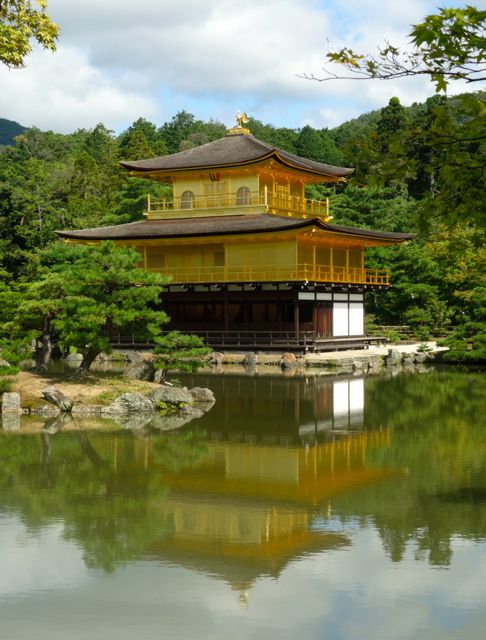 The biggest drawback to such a magnificent temple is its popularity. I arrive right at its 9:00 am opening, and there are already busloads of tourists from China, Italy and elsewhere. Waiting would not have helped; it is even more crowded when I leave. Everyone jockeys for the best spot to capture the temple with its reflection in the pond that leads to it. Do not let the crowds deter you. You will have a great experience.
Note, try to go on a sunny day. The temple and its reflection look best in the morning sun. The grounds are also quite beautiful.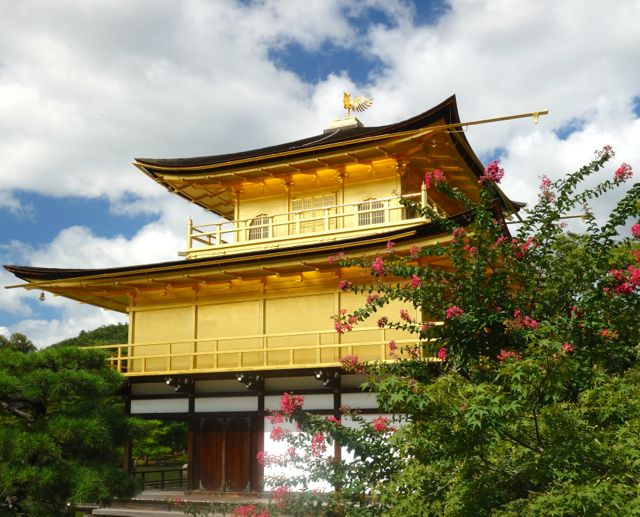 The second drawback is that the Golden Pavilion is on the far west side of Kyoto. Public transportation is not that convenient. Upscale travelers should splurge for a taxi to and from the temple. They are plentiful and save precious time too.
Speaking of time, I must now jump in the hotel courtesy van and be shuttled back to the main train station for my bullet train back to Tokyo. In just a little over 48 hours we have managed to escape the trappings of the metropolis and immerse in a bit of Japan that is both ancient and modern, religious and secular, upscale and budget.
Mata atode, Kyoto!
What's upscale?
Reserve "Green Car" seats on the Shinkansen bullet train between Tokyo and Kyoto. It is sort of the equivalent of business class on a plane, at a reasonable cost.
The suite at The Westin Miyako overlooks a traditional Japanese garden and is adjacent to a mountain trail.
It is more enjoyable to use a local guide as you tour Gion, rather than try to manage it yourself.
What's budget?
Temples and shrines are either free or a small donation.
A lot of competition seems to keep restaurant and lodging costs lower than Tokyo.
The meticulous subways are convenient and inexpensive.