Six ladies gather at a coffee stand to catch up. No Starbucks here. More than a hundred farmers are selling in-season white asparagus at the Victuals Market. Crowds of tourists gather under the tower of New Town Hall to await the Glockenspiel chime, as they have for 100 years. Others climb the cathedral steps for a breathtaking view of the city.
Locals stroll through English Garden, a park bigger than Central or Hyde Park. A short walk away, guys dressed in wet suits actually surf the Isar River that cuts through the city. As evening approaches, more than 2,000 people dress up and cram into the Bavarian State Opera House, as they have for 200 years. Another kind of music is coming from the beer halls, along with the clank of beer steins and plates overflowing with sausages and sauerkraut.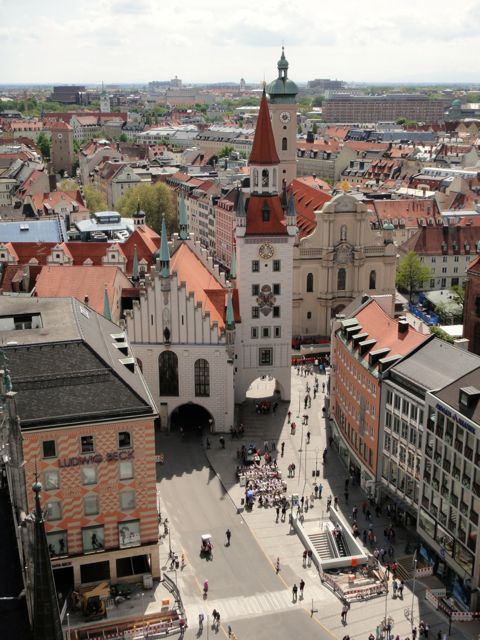 All these amazing sights and sounds can be yours in a single day of walking, with Munich's Old Town as your hub and starting point.
I like Munich a lot. It's my favorite German big city, partly because it offers so much to do, but with a historic, smaller city feel.
We stay at the Le Meridien, an upscale Starwood property, starting our day with its wonderful buffet breakfast. Then comes the short walk into Old Town, where we head to the cobblestone Marienplatz, the central square of Munich.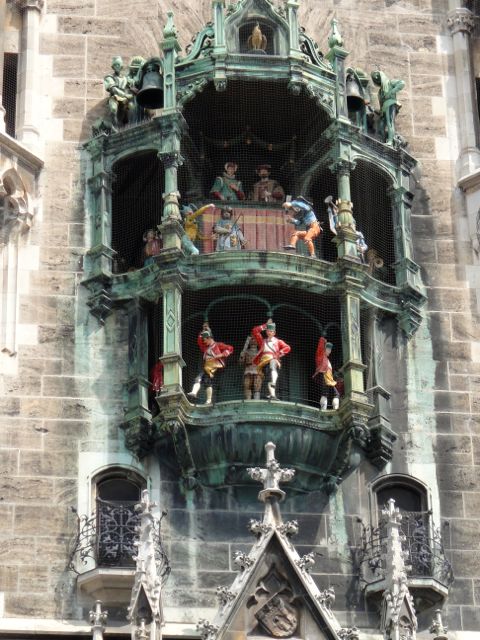 We are now in the heart of Old Town (Altstadt, in German). The focal point is the New Town Hall (Neues Rathaus) and the first performance of the day of the Glockenspiel. The carillon has some 43 bells and 32 figures that re-enact a 16th century wedding precisely at 11:00am.
Right after, we catch the elevator that takes us 85 meters above the city for beautiful views in all directions. This area of Old Town is also filled with shops, street performers, outdoor cafes and general conviviality.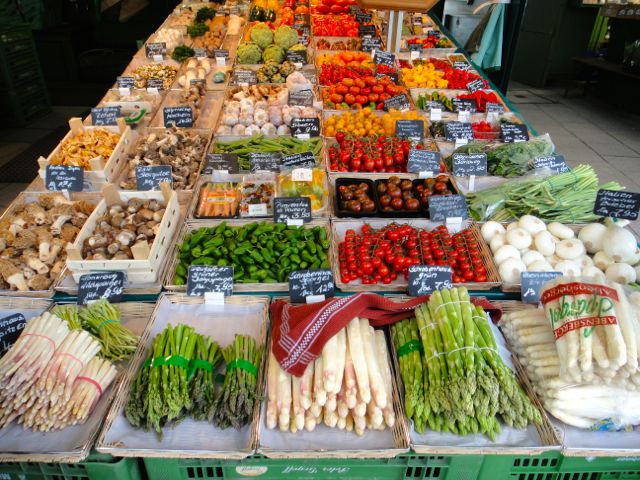 We stroll further to the beginning of the Victuals Market (Viktualienmarkt). I am often drawn to local markets in foreign cities. I think they represent some of the best opportunities to see and interact with locals, not to mention grab some food and take lots of photos.
This large daily food market has both temporary and permanent stalls, with picture-perfect seasonal fruits and vegetables, plus delectable local cheese, wine and more.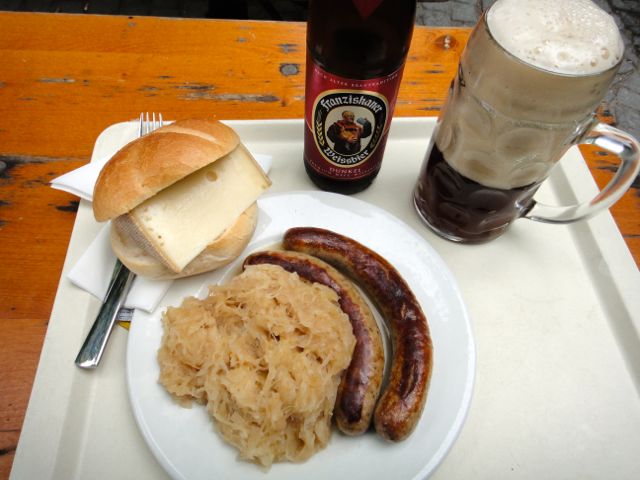 The market is a great place to catch lunch outdoors at a place simply called Munchens Kleinste Gaststatte (Munich's little restaurant). We dine on freshly grilled bratwurst, sauerkraut, roll and Emmentaler cheese. And, of course, the drink of choice is a big bottle of Francishaner Weissbier. We are officially in Bavaria now!
The afternoon is easily spent walking off that lunch, with a stroll through the expansive English Garden (Englischer Garten). Get in your 5K just by going from one end to the other. The sights are varied, from a Japanese Tea Garden to Munich's oldest beer garden under a Chinese Tower (Chinesischer Turm).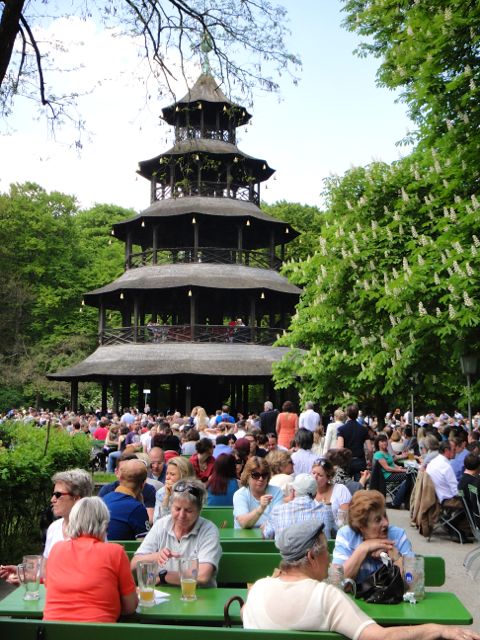 We stop for a stein of beer on this pleasant afternoon, as I try out my high school German on some locals at the long shared tables. Hey, that went pretty well. I can say, "I'm sorry, I don't speak your language very well" in several languages, including German. The locals and I share some attempts at conversation, and a connection seems to form (helped by the beer).
I know we've been drinking, but I'm pretty sure the sight of surfers in wet suits isn't something I imagined. Right in the heart of the park German engineers have crafted a channel of the Isar River into what they call the Eisbach, an actual surfing haven. Well, the photo is proof enough.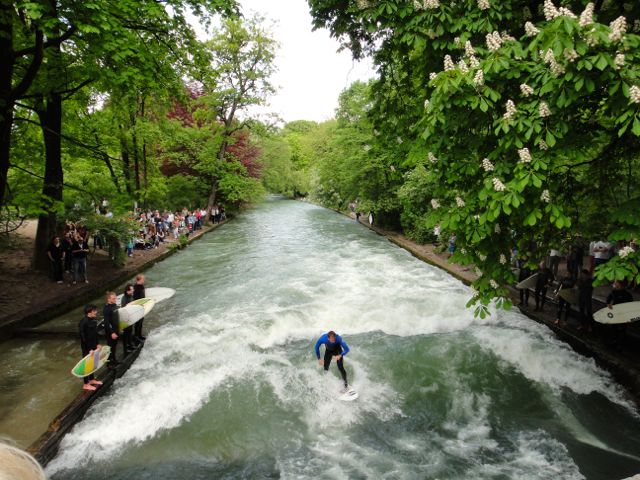 We walk back past the Residenzmuseum, home to the Wittelsbach rulers for more than 400 years. Note that you could easily spend half a day or more just exploring these magnificent grounds and buildings.
But for us, there is no time. We have scored some tickets to the sold-out opera, by asking attendees if they had any extras for sale. A modern opera in German isn't high on my must-do list, but the venue, the 200-year-old Bavarian State Opera House, is extraordinary.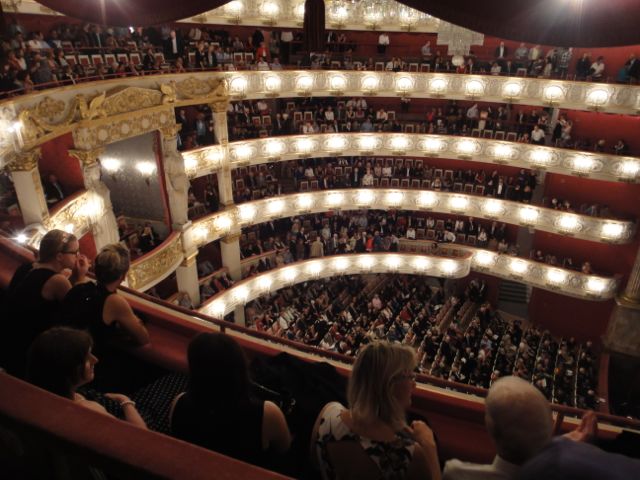 As night settles in over the Altstadt, it seems only fitting to wrap up a long day with a dinner at the Hofbrauhaus Munchen. This 3-story beer hall and restaurant dates back to the 16th century. It is touristy? Yes. Is it always crowded? Yes. Does any of that matter? No. We manage to get a balcony table outside, a perfect ending to this warm evening.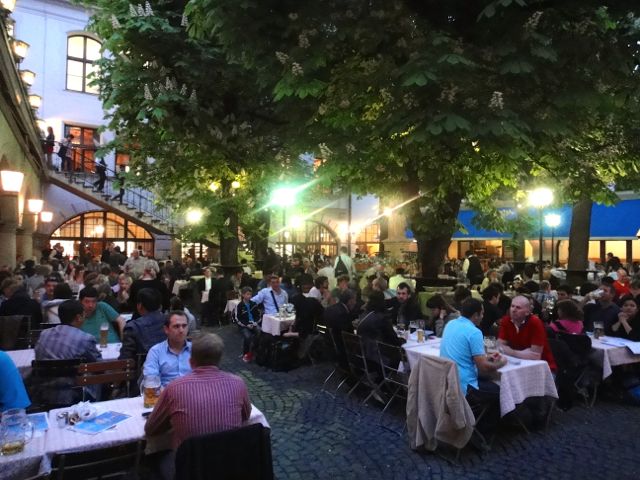 You can accomplish a lot in one day of walking, with Munich's Old Town as your hub. And yet, we have barely scratched the surface of this city, let alone the surrounding Bavarian countryside.
The sights are old and new. One day you can hike up to King Ludwig's castle, Neuschwanstein, and the next day explore the ultimate driving machines at BMW World. But that's a subject of another post!
What's upscale?
Tickets for a performance at the Opera House run from 50 to 200 Euros.
Stay at Le Meridien Hotel, across from the train station and a short walk from the Old Town gate.
What's budget?
Most of our walking tour sites, including the market, park and Marienplatz, are free.
It is a very walkable and bike-friendly city, with a good metro. No need for taxis.
There is even a train (S-Bahn) connecting the airport to Marienplatz.