We gaze at the imposing granite peaks dating back to the Jurassic Period. Gnarled pine trees grow mystically out of the rock. The mountains seem to float on endlessly. But this Avatar-like scene is devoid of any Western tourists during our visit. They are missing China's hidden gem.
These fascinating mountains, often enshrined in a sea of clouds, have long infatuated Chinese poets and landscape artists. They even inspired the Shanshui (mountain and water) school of painting, dating back to the Ming Dynasty of the 16th century. The landscape has not escaped the attention of UNESCO either, being named a World Heritage Site in 1990 as "the loveliest mountain in China." And today, a remarkable 2.74 million travelers visit the popular retreat in the south of Anhui Province, annually.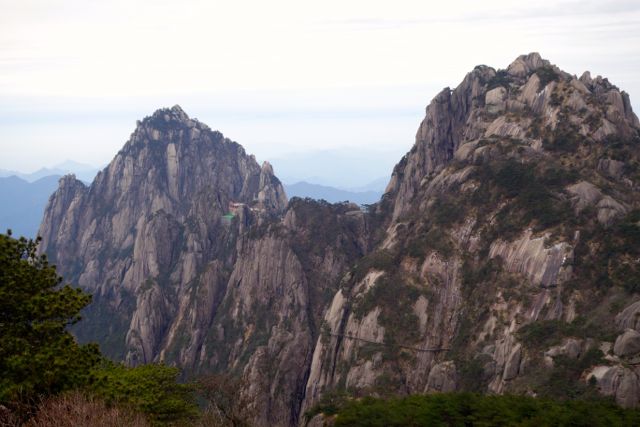 So where are the Western tourists? Well, to begin with, China's tourism machine doesn't promote this iconic setting. Visitors are beckoned to Beijing to see the historic Forbidden City, Temple of Heaven, and Summer Palace. While there, they would be remiss if they didn't take a convenient side trip to The Great Wall. Go to Shanghai and see 21st century China on display, spectacular by day and night. Even Chengdu is accessible via a manageable flight, and a panda preserve is right in the city. Tour groups love to shepherd Westerners on a boat through the Three Gorges. And don't forget the Terracotta Warriors, a quick drive from the Xian airport.
Huangshan is a little trickier. The city of Huangshan is about 410 km (255 mi) southwest of Shanghai and 250 km (155 mi) west of Hangzhou. High-speed trains are the most practical way to make that connection. Beijing is further to the north, with the fastest train taking about 6 hours. But you are not really near the mountain when you arrive in Huangshan.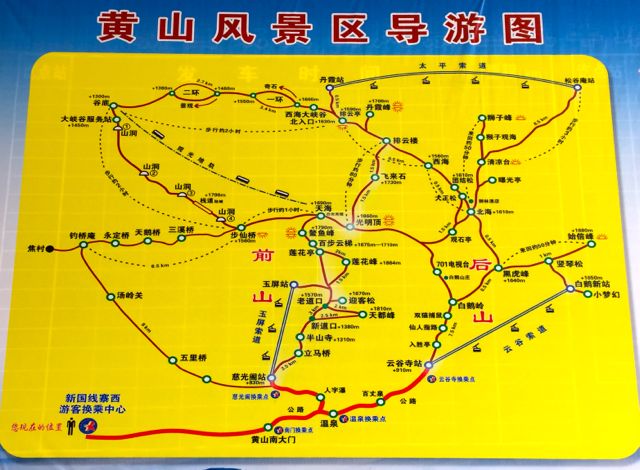 You can hire a driver or take a taxi or find a bus from the train station, but it is a confusing setup. And all signs are in Chinese only – everything. In hindsight, I would check into a reputable hotel in the area and have them arrange a guide for you, including on the mountain itself. Getting there is tricky and even with the help of several cable cars the mountain trails can be a navigational challenge.
Do not let this caution stop you from visiting some of the most remarkable vistas on the planet. The scenic area covers more than 150 square kilometers, with a wondrously diverse ecosystem. The "Four Wonders of Huangshan" are the spectacular rocks formations, the oddly shaped pine trees, hot springs, and the "sea of clouds." It is no wonder that for centuries they have been thrilling those who journey there.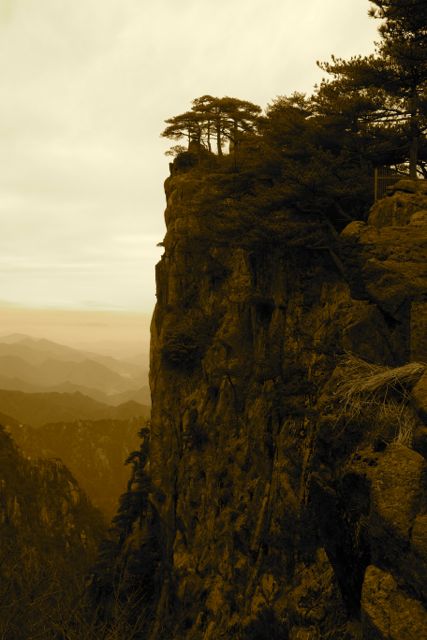 According to legend, the Yellow Emperor, Huang Di, born in 2717 BC, was a disciple of two Chinese Daoist masters. They were alchemists who sought to make pills of immortality. They chose this mountain region as a place that was close to both the spirit and physical worlds. It was here that the Yellow Emperor swallowed their golden pill and after soaking in a hot spring for 7 days, became immortal. The mountain range was later renamed Huangshan (Yellow Mountain) in his honor.
Renowned environmental advocate Edward Abbey once famously stated, "May your trails be crooked, winding, lonesome, dangerous, leading to the most amazing view." Fortunately for travelers like us, Huangshan has been architected with tens of thousands of stone steps in lieu of rocky, dirt paths, and there are tasteful wooden fences that keep you from falling over a cliff. With apologies to Edward, the views are still amazing.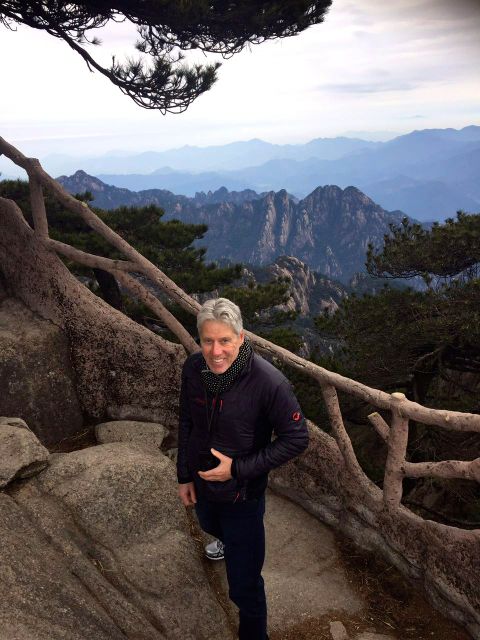 Upon arrival, we take the Taiping Cableway (one of three on the mountain range) to its upper station in hopes that from there the hiking will be more or less downhill. It is less. But the mountains are so majestic that we don't mind traversing stone steps, up and down and up and down. The stops are frequent for photos of the stunning vistas.
Some of the peaks rise more than 1,000 meters above the forest floor below. Many have been given artistic and even whimsical names, such as Immortal on Stilts, Farewell to My Concubine, Rock Fell from Sky, Buddha Hand Writing a Sealed Book, and Monkey Looking Over the Sea.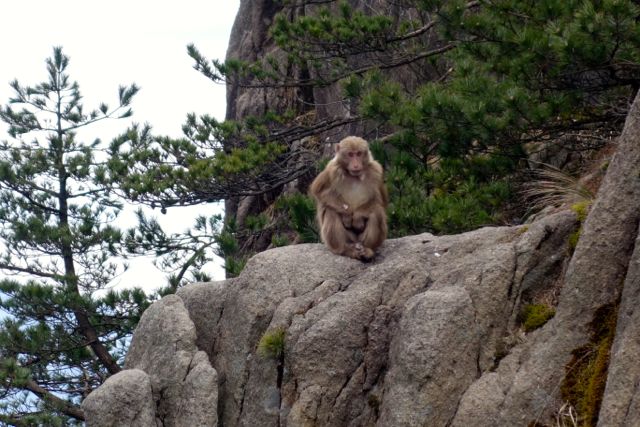 In fact, there are monkeys to be found perched on the rocks. We admire their ability to maneuver a steep precipice like no human could. Interesting animals aside, the other striking feature of this region is the magnificent pine forest. Rising from gaps in the rocks, clinging to cliffs, they help to create a magical landscape that seems more like a painting than reality.
Four hours and a hundred photos later, a check of the health app on my phone confirms we have walked more than 12,000 steps and 105 floors! You don't need to be an expert hiker to enjoy Huangshan, but you do need the stamina for a lot of vertical walking.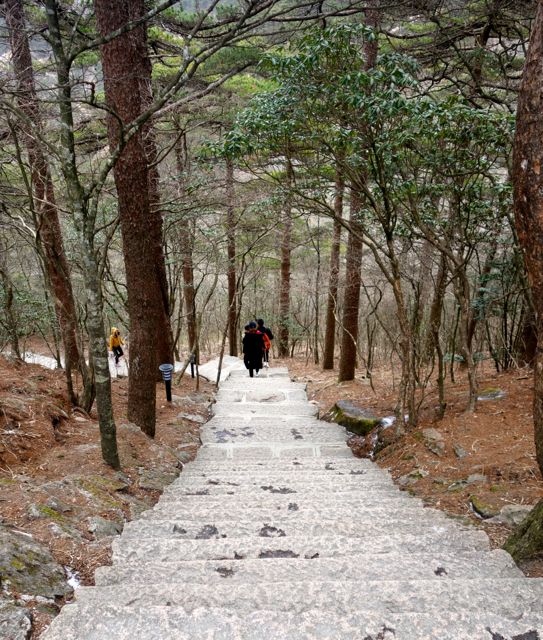 Some visitors recommend climbing up the mountain in one day, staying at a hotel near the top, and walking down on day two. We choose to use cable cars for part of the journey and turn the venture into a day trip. The hotels we see are far from upscale and yet still expensive, because all supplies must be hand-carried to the summit. Even choosing the day-trip route, we are exhausted.
Also be sure to check the weather before making the trek to Huangshan. One of its four wonders is the "sea of clouds." We go on a mostly cloudy day, but with great visibility. There are times when clouds or fog can swoop in and create some mystical visual effects – or obscure your view altogether. I would not want to deal with hiking the area in the cold and rain, which can also be frequent certain times of the year. In other words, do your research!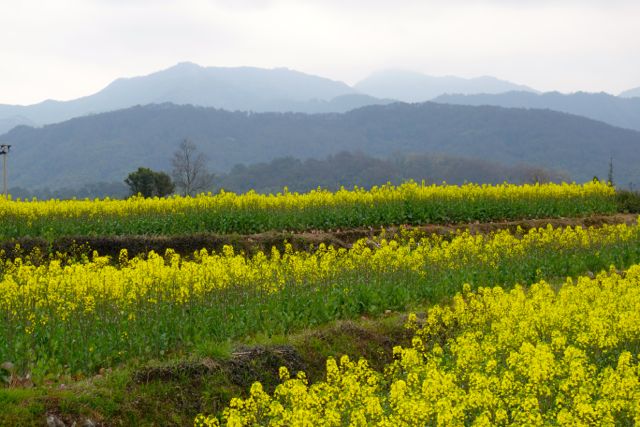 As magnificent as Huangshan is, there are other not-to-be-missed sites in the region. Hongcun Ancient Village and Lucun Village are each worth several hours of exploration and will be the subject of another post.
Have you been to Huangshan? What are your impressions? Feel free to comment below.
What's upscale?
A stay at the Banyan Tree Huangshan is luxurious, but can be expensive depending on the season. Check various dates if possible, as rates vary widely. Also note, that despite Huangshan in the name, the Banyan Tree is more than an hour from the mountain.
What's budget?
Like many UNESCO sites, admission prices are reasonable.