Boracay. Palawan. Those are the names that have grabbed all the international tourist attention for the Philippines because of their gorgeous beaches. But this country offers so much more, especially for fans of UNESCO World Heritage sites. We are a group of 10 travel writers representing TBEX who visit 9 travel-worthy sites in Ilocos to prove you can have more fun in the Philippines beyond the beaches.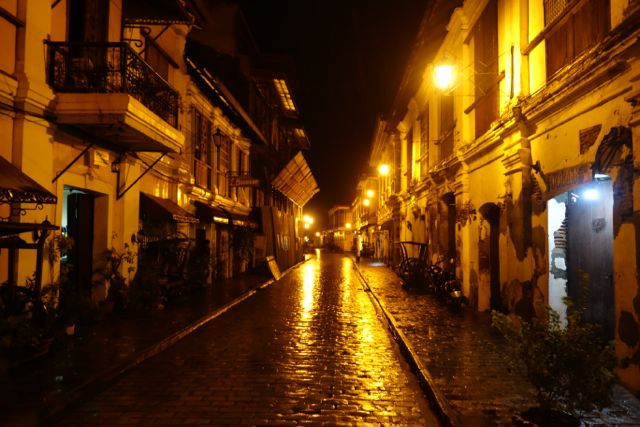 Yes, the Philippines has more than 7,000 islands. That makes for some incredible beaches to explore. Yes, Manila is a huge city that occupies some of the tourist's time as well. However, if you venture about 500 km north of Manila to the provinces of Ilocos (Norte and Sur) you will find a different Philippines – one reminiscent of the earlier Spanish days. We start our journey in Laoag,
Laoag City has a small airport that has direct flights just an hour from Manila on Philippine Airlines. For the upscale traveler, I recommend flying versus the 10 to 12-hour bus ride. Laoag City is a good base for our exploration of Ilocos, as we will head in every direction from here, like the spokes of a wheel.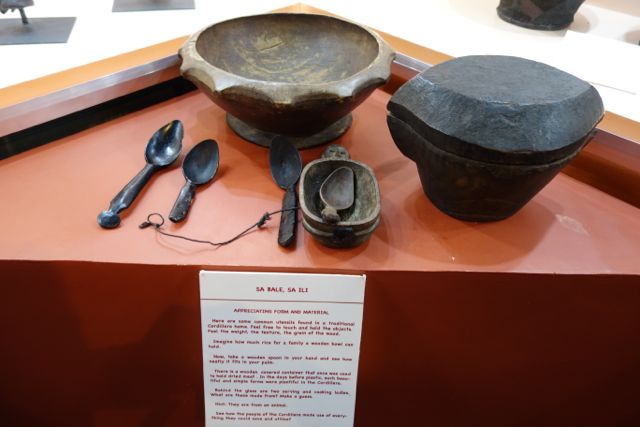 Laoag Taoid Museum
There are more museums than malls in Ilocos, and the Taoid Museum is my favorite. It traces the history of this region's indigenous people and does so in a very hands-on, non-glass-case way. We actually hold the ancient utensils in the photo above.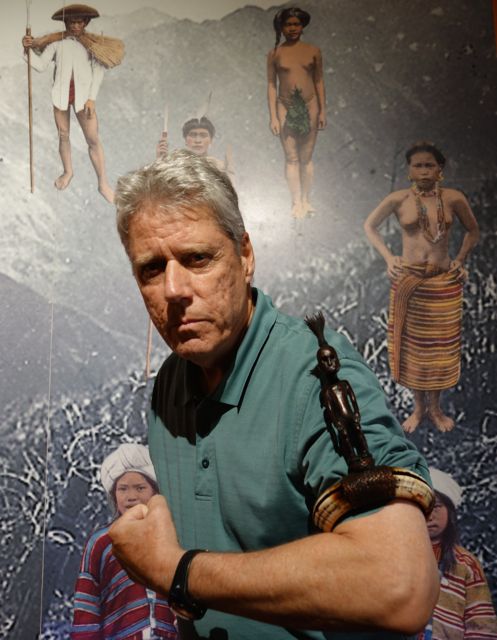 We are introduced to tribal life before and after colonization, including a fascinating exhibit on the Cordilleran highland custom of headhunting. I wrap up my visit by donning a wild boar tusk armband from the Gaddang ethnic community.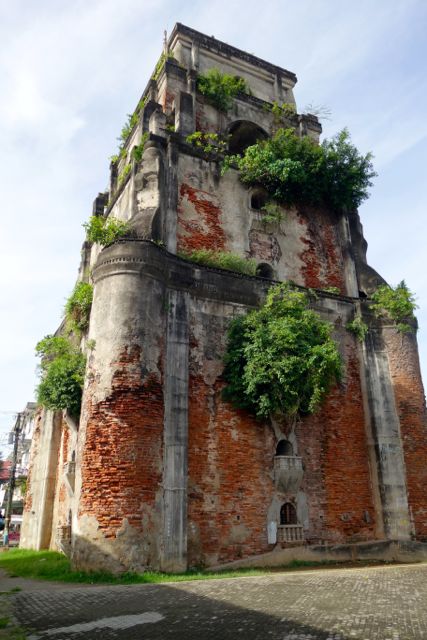 The sinking bell tower
There are also more churches in Ilocos than malls. Laoag City has an interesting one, St. Williams Cathedral, famous for its sinking bell tower. The 45-meter tower, built in 1612, is unusual for several reasons. One, it is some 85 meters away (and across a busy street) from the church. Two, built on a sandy foundation, it slowly continues to sink. I wonder if I will have to someday refer to it as a 44-meter tower.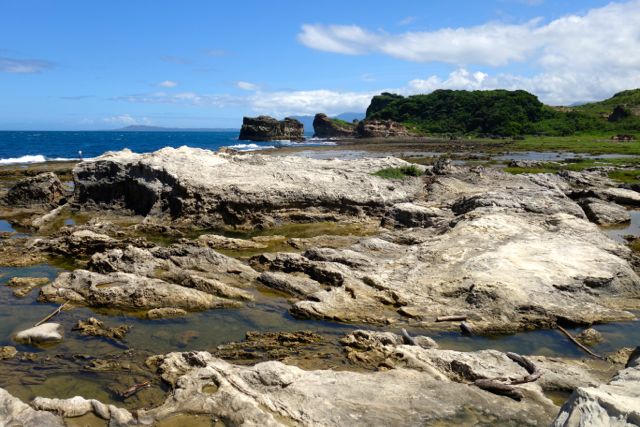 Kapurpurawan rock formation
We travel from Laoag City a short distance to the northwest tip of the Philippines and the coast of Burgos. There we encounter a beautiful white limestone formation carved from years of wind and sea. The setting is tranquil, with green pastures, horses and the landscape of rock and water that can be navigated easily on foot.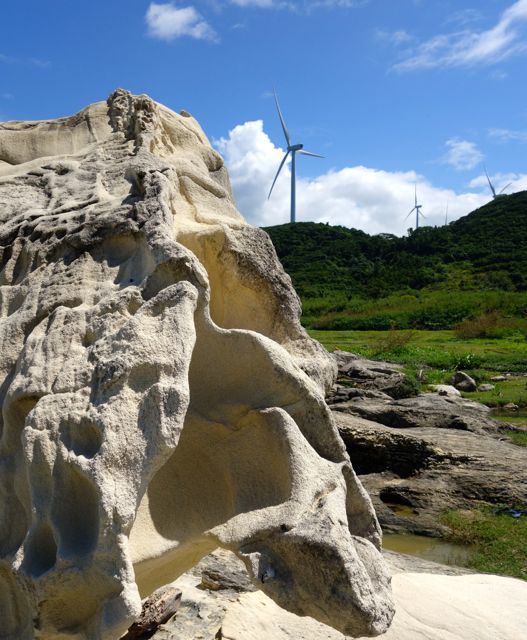 Bangui windmills
The northwest coast is also very windy, a perfect setting for a wind farm, the largest in Southeast Asia. The hypnotic effect of the 60-meter high towers set right on the coastline is a sight not to be missed.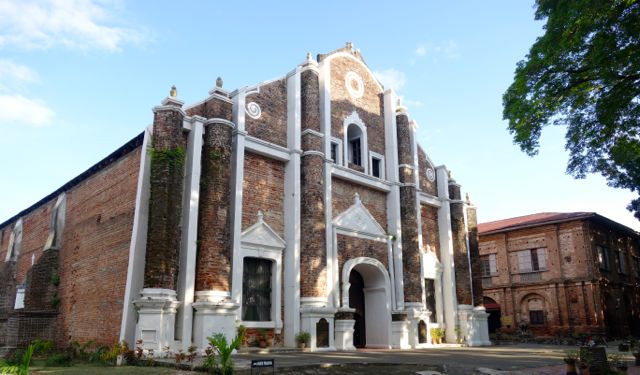 Santa Monica Church
Back to our hub of Laoag, this time we head east to Sarrat and the parish church of Santa Monica. The parish priest, who explains the long history of this 1779 structure, gives us a tour. The church was destroyed twice by fires and once by an earthquake and the adjacent convent was even occupied by the Japanese. Yet the Baroque and Neoclassical brick church, with the longest nave in the country, lives on.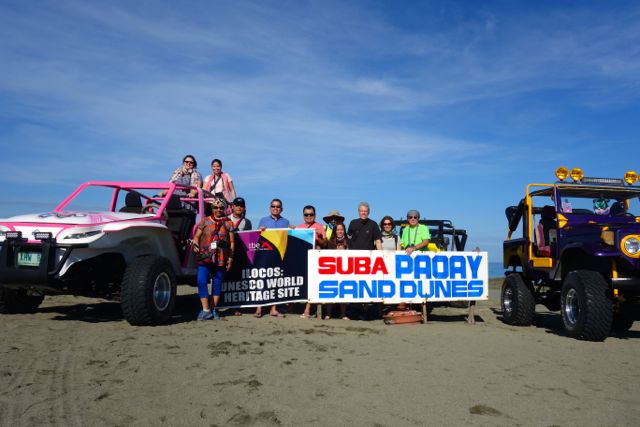 Paoay sand dunes
Just south of Laoag are the coastal sand dunes of Paoay. We diverge from our cultural tour for some extreme sports fun. Our group hops into 4x4s for a thrill ride to the dunes. From there, it's sand boarding time. Some are brave enough to sand surf down the steep hills standing up. Others, like me, choose the seated method. It's not a surprise that these dunes have been used for numerous movies, including Mad Max.
Batac empanadas
All that exercise works up an appetite. Fortunately, the town of Batac, famous for its empanadas, is just to the east of Paoay. Considered the ambrosia of the Ilocanos, these snacks are addictive. Made with a savory filling of grated green papaya, mango, chopped Ilocano sausage and raw egg, they are wrapped in orange rice flour dough and quickly deep-fried. All that is needed is some hot sauce. Batac even holds an Empanada Festival every June.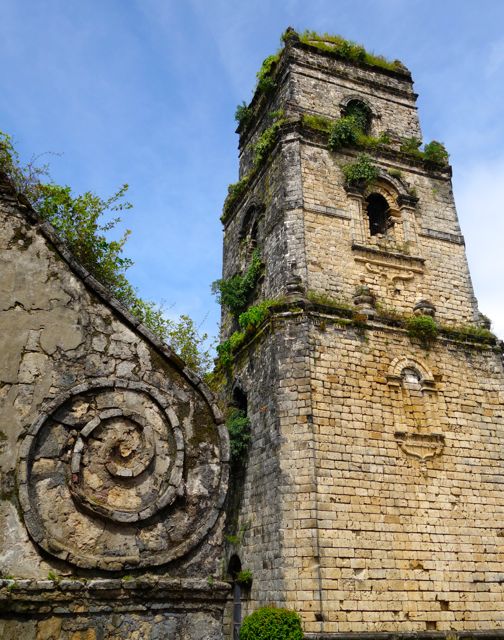 Church of Saint Augustine
Back in Paoay City we visit the crown jewel of Philippine churches, known locally as San Augustin or simply Paoay Church. It is a UNESCO World Heritage Site and a National Historic landmark. This Baroque structure, built in 1710, has survived its share of natural disasters (earthquakes and typhoons), as well as man-made ones (numerous wars). The bell tower, made of coral stone, is especially impressive when viewed up close.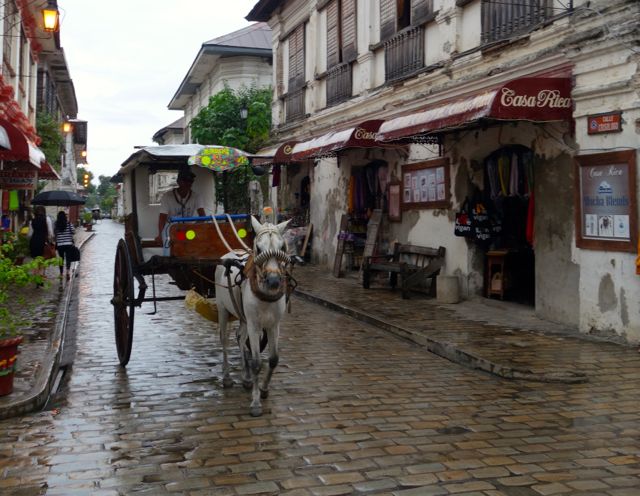 Vigan City
We end our journey with a 2-hour drive south to Vigan City. One glance at Vigan City and you would not believe you are in Southeast Asia. This 16th century city is the best-preserved example of a Spanish colonial town in Asia, which has earned it the status of UNESCO World Heritage Centre. Horse-drawn carriages clomping down cobblestone streets in front of rustic mansions transport the visitor to another time.
Certainly our 5 days in Ilocos introduce us to a way of life that is far different from the tourist beaches of the south in the Philippines. This is the center of history, architecture, and culture, mixed with natural wonders. We thank the Department of Tourism, Tourism Promotions Board, for the opportunity to experience this side of the Philippines and to share it with you.
What's upscale?
In Manila, stay at the excellent Conrad Manila. The Luna Hotel in Vigan City is an acceptable accommodation. Unfortunately, I cannot recommend the Chinese-owned Fort Ilocandia in Laoag.
What's budget?
Food and lodging in the Philippines can be quite reasonable, especially in the Ilocos region.